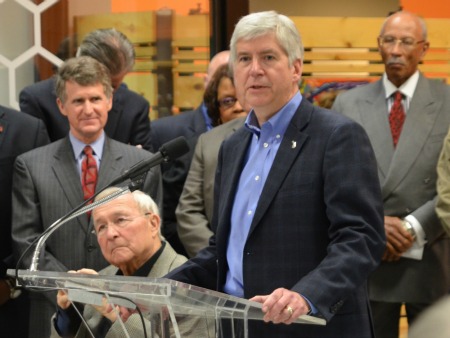 LANSING, Mich. – Gov. Rick Snyder today signed several bills that will help spur long-term economic growth in Detroit and enhance the quality of life for residents.
"The reinvention of Michigan will not be complete without a strong Detroit," Snyder said. "These significant steps will help to energize the community by encouraging job creation and improving neighborhoods. We're working in partnership to ensure a prosperous future for the city and all of southeast Michigan."
"Both the Regional Transit and Public Lighting legislation are major initiatives within my Restructuring Plan for transforming Detroit," said City of Detroit Mayor Dave Bing. I am extremely pleased with the votes of approval by the legislative body on these two actions, which will lead to improved services for our citizens. In addition, the Eastern Market Bill will increase economic development in the city and enable non-profits to better serve the community and its needs. There is still a lot of work to be done, but I am encouraged by this major step."
Senate Bills 909, 911, 912, 967 and 445 establish the Southeast Michigan Regional Transit Authority in Wayne, Oakland, Macomb and Washtenaw counties to efficiently integrate all modes of public transportation under one authority and leverage hundreds of millions of dollars of public and private investment. Enhanced mobility throughout the region will also help to create a new regional identity and culture.
In addition to creating the regional transit authority, SB 909, sponsored by state Sen. Tom Casperson, provides for local control in the Authority's decision making and finances. Under SB 911, sponsored by state Sen. Bert Johnson, the Authority will be able ask local voters to approve a vehicle registration fee to support transit within the region. SB 912, also sponsored by Johnson, makes technical changes to the Michigan Zoning Enabling Act in support of the Authority.
SB 967, sponsored by state Sen. Virgil Smith, authorizes the Michigan Department of Transportation or a local road agency to enter into an agreement with the Authority to dedicate a portion of right of way for public transportation. SB 445, sponsored by state Sen. Rebekah Warren, provides a streamlined mechanism for managing funding between MDOT and the Authority.
"Today we are ushering the region into a new era," Snyder said. "Metro Detroit, including Wayne, Oakland, Macomb and Washtenaw counties, is home to nearly half of Michigan's population. Connecting people with safe, reliable and efficient transit will be instrumental to our ongoing economic comeback. It will provide opportunities for job providers, working families and our young people."
SBs 909, 911, 912, 976 and 445 are now Public Acts 387, 388, 389, 390 and 391 of 2012.
Snyder also gave approval to three bills creating a Detroit Lighting Authority. The Authority will help revitalize the tens of thousands of lighting fixtures near major population areas and schools throughout the city that are not operational. The city estimates $160 million is needed to repair or replace the lighting system.
House Bill 5688, sponsored by state Rep. Maureen Stapleton, gives the city the power to create the Authority. Its Board will be composed entirely of Detroit residents, the majority of which are professionals. It will consist of two members appointed by the Detroit City Council, as well as two members appointed by Mayor Dave Bing and one chosen by the council from a list prepared by the Mayor. HB 5705 and SB 970, sponsored by state Rep. John Walsh and state Sen. Bert Johnson, respectively, will allow existing Detroit utility taxes to be used to pay back bonds that will fund repairs, while ensuring income tax revenues can support policing in the city.
"It's simply unacceptable that much of Detroit's light fixtures don't work," Snyder said. "This is a long-overdue solution that will get those lights turned back on while maintaining local control and protecting taxpayers, which is important."
HBs 5688 and 5705 and SB 970 are now PAs 392, 393, and 394 of 2012.
House Bill 5926, now PA 395, sponsored by state Rep. Brad Jacobsen, allows nonprofit organizations like Detroit's Eastern Market the ability to apply for grants and loans under the Community Revitalization Program. The Michigan Strategic Fund works within the program to issue grants and loans to businesses that go toward building renovations, additional machinery and equipment, architectural or engineering surveys and improving the overall quality of existing business sites. In addition, it allows numerous nonprofit organizations to match federal grant dollars to advance their facilities and accessibility.
"This will help Detroit's Eastern Market and other nonprofits with growth opportunities so they can continue to serve communities in a positive way," Snyder said.
A measure also signed allows the Detroit Downtown Development Authority to continue receiving funds to support a proposed $650 million investment project by Olympia Entertainment, which is owned by the Mike Ilitch family. The development project will bring a new home to the Detroit Red Wings as well as residential, office and retail space. The project will have an expected total economic impact of $1 billion in the state. House Bill 5463, now PA 396, and sponsored by state Rep. John Walsh, authorizes the continued use of funding by the DDA for the project and does not require additional revenues.
"This is an exciting project that will create thousands of short and long-term jobs and will help further revitalize downtown Detroit," Snyder said.