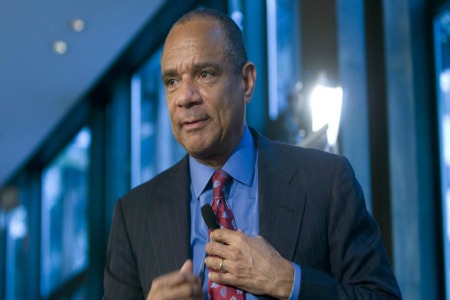 Obama administration officials have approached American Express chief executive Kenneth Chenault about joining the administration in either a Cabinet post or as a White House adviser, according to Bloomberg News.
Bloomberg said among the potential jobs are Secretary of Commerce or Treasury Secretary, although White House Chief of Staff Jack Lew is the heavy favorite for the latter. Chenault, who has run American Express since 2001, has served on Obama's jobs council and frequently consulted by the president and his team on economic issues.
The floating of his name of his name is not surprising, as White House officials are aware of concerns from Democrats about a lack of women or minorities in top posts in his second term after the withdrawal of United Nations Ambassador Susan Rice from consideration as a potential Secretary of State.
The candidates considered mostly likely for White House Chief of Staff (Obama Deputy National Security Adviser Denis McDonough and former Biden Chief of Staff Ron Klain) Defense Secretary (ex-senator Chuck Hagel) Secretary of State (John Kerry) and Treasury Secretary (Lew) are all white males.
The Commerce Secretary has generally had a limited role in policy-making, so it's unlikely Chenault would leave his American Express for the post.
A White House job would likely be more appealing for him and offer greater access to Obama.
https://thegrio.com/2012/12/19/will-american-express-kenneth-chenault-be-in-the-cabinet/