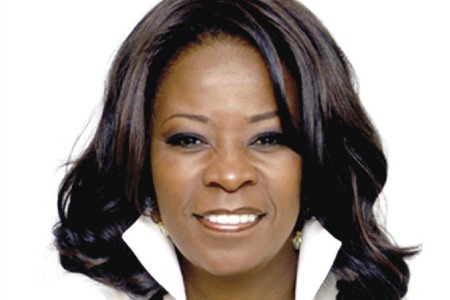 In 2011, Clear Channel Communications began cutting radio staff from stations around the country, and replacing beloved Deejays and hosts with syndicated talent.
The most recent round of cuts affected employees at stations in major markets across the U.S., including those in Los Angeles, Dallas, San Diego, Detroit, and Miami. Cuts included on-air talent as well as production and administrative staff. However, in Detroit an unexpected and unappreciated cut has silenced one of Detroit's most beloved radio hosts, Frankie Darcell.
Darcell was one of the leading voices of the African-American community in Detroit. She garnered listener loyalty with her lively "talk of the town" topics, candid celebrity interviews and introspective "mix meditation."
Unwilling to go into the specifics about her sudden departure from her WMXD-FM (92.3) radio show, Darcell noted she had no idea she would be let go from the position she held for 11 years.
"My new career started on that Friday," she said. "I was certainly saddened and disappointed but that moment can come for any of us. Whenever you work for someone else, you are at the risk of getting that tap on the shoulder."
Despite the recent news Darcell came across poised and optimistic about the future.
"I see this as the beginning of the next chapter. I'm at the top of my game. In fact, if I were a car I would really just be in second gear. I absolutely love what I do and God could not have blessed me any more than he has by me being in radio and media in particular. Its an amazing privileged to be paid to be yourself."
Darcell went on to note the numerous projects she is currently working on and how she will always find a way to be heard on Detroit's airwaves.
"I have pretty much learned to multitask in media. I have written three books, I'm in the middle of my fourth book and I've hosted my own television show. I have learned to use all my skills and become multidimensional, not only in entertainment but politics and social media. Detroit is my home and I have no intentions on leaving. I still plan on using my talents here, but I can say I will make more of an investment in myself and focus on building my own brand."
Darcell has received an immense amount of support from her fans and said "because of the recent news I have had some wonderful comments sent my way from people all around the country. I knew there would be some sort of response when I left the office that Friday morning, but I had no idea it would become a national story."
While Darcell gave no specific information about her next move, she responded with an insightful anecdote: "I don't want to put a comma where God has put a period and I don't want to put a period where God has put a comma. So I am just open to whatever the next blessing is."
To stay connected with Frankie Darcell and all her new ventures, she urges fans to follow her on Facebook and twitter @FrankieDarcell.
About Post Author