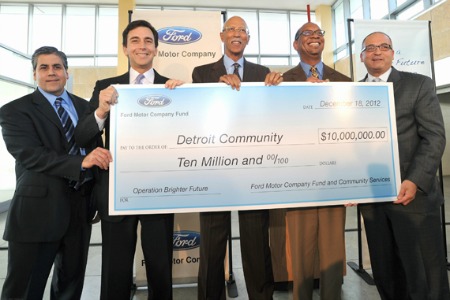 Detroit's Southwest community got another boost Tuesday when Ford Motor Company's charitable arm presented the City of Detroit and local nonprofits with a $10 million check for neighborhood programs.
Mayor Dave Bing said the donation lines up with his Detroit Works Project which focuses resources on what Bing calls "brighter", more populated areas of the city such as Southwest Detroit.
The $10 million program, titled Operation Brighter Future – Detroit, will help fund nonprofits and city service initiatives including job-training programs, youth summer camp opportunities and a Gleaners food bank.
Much of the funds will go towards programming in the new Ford Resource and Engagement Center located in the formerly vacant Mexicantown Mercado near the Canadian border. The new resource center is the focus of the "Brighter Future" program. Ford estimates the donation will provide funding to implement community-based programs for at least four years.
Hector Hernandez, director of the nonprofit Southwest Housing Solutions, said the program helps restore the Mercado's original purpose to serve as a community resource.
The Mercado building, originally intended to be a community space for community activities, and marketing opportunities, has not seen any program development since it was built more than four years ago.
"This is very exciting news for the city and our residents," Bing said. "This building, known as the Mexicantown Mercado, has sat empty for several years."
Ford's Chief Operating Officer Mark Fields said he sees the donation as an investment in Detroit's comeback.
"This center is going to be a hub of entrepreneurship, workforce training, capacity-building, arts, and culture," Fields said. "We are excited to contribute this $10 million investment toward services that will empower families and strengthen the community."
Ford also on Tuesday announced the donation of two vehicle chassis to add to the city's ambulance fleet.
In addition to the new resource center, the top automaker is "adopting" the city-run Patton Recreation Center, located near the Mexicantown Mercado to help fund programs the city can't afford.
"It's part of our DNA as a company," Fields said of the donation. "We know the importance of forming strong communities wherever our employees live or work."