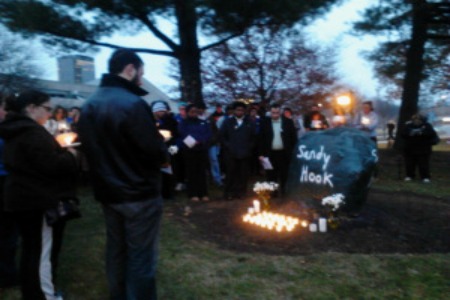 SOUTHFIELD, Mich. (WWJ) – Some parents may still keep their kids at home — but schools in Newtown, Connecticut are opening their doors today for the first time since Friday's deadly shooting at Sandy Hook Elementary, which will remain closed.
The tragedy at Sandy Hook is having an effect on children here in Michigan. Many were in attendance last night at a vigil attended by about 100 people on the campus of Lawrence Technological University. As the names of each of the victims were read, a flower was placed on a rock painted with the words "Sandy Hook." It was clear that even several states away, emotions are still raw as a result of the shootings.
"How could you do that to kids," asked Melanie Tracy, who brought along her 11-year-old daughter and two neighbor children. "I don't understand it at all," she said while choking back tears.
"I feel sad that the kids died, and the teachers and stuff … and I hope my grandpa takes care of 'em cause he's in heaven," an eight-year-old girl told WWJ's Sandra McNeill.
Eleven-year-old Sydney Tracy said she's scared, too.
"Yeah, I'm kinda scared cause I don't want this to happen, and my mom and dad — once I go to middle school — they're gonna have me bring a cell phone with me at all times," Tracy said.
Both children say their schools are now locking doors and reinforcing safety drills.
http://detroit.cbslocal.com/2012/12/18/lawrence-tech-hosts-vigil-for-sandy-hook-victims/