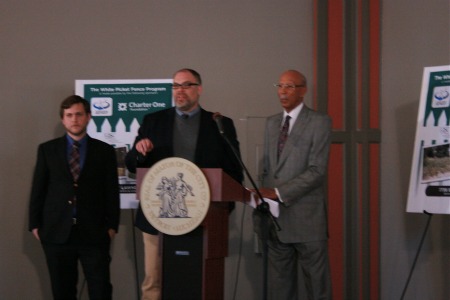 DETROIT—In an effort to improve quality of life for Detroiters, Mayor Dave Bing on Wednesday announced the expansion of a program that helps landowners buy city lots next to their property.
The initiative, dubbed the "White Picket Fence Program", started in Southwest Detroit earlier this year and is expanding into the city's historic North End community.
Bing announced the program in his state of the city address in March. The initiative, a key part of the mayor's Detroit Works project, expedites the city's land acquisition process and gives landowners priority to purchase adjacent, vacant city-owned lots for $200.
While the program has been successful, Bing said there are financial barriers to rolling out the incentive citywide.
"We just don't have the people to get this done as quickly as we would like to," Bing said. "What we're seeing here in Southwest Detroit is a blueprint I think we can take to other parts of this city."
In addition to discounted land prices, participating residents in the targeted neighborhoods receive a $200 voucher toward fencing material. A partnership with Charter One and Fifth Third Bank provides the funding for the fencing vouchers.
Vicky Chavez, one of the 100 residents in Southwest to take advantage of the initiative, said she was surprised at how easy it was to buy a lot next to her home.
"The process is really simple," Chavez said. "I thought I would have to do all this paperwork and years of waiting, but no. It was all done in about 40 days."
Why Southwest and North End neighborhoods? Brad Dick, the city's general services Director and area manager for the Detroit Works Project, said that these are two of three target areas for Detroit Works that also have "a lot of vacant lots."
The White Pickett Fence initiative is geared toward beatification and not a significant source of revenue for the city, Bing said. He noted that that over time, some revenue could come from property taxes.
"We want a suburban kind of lifestyle in Detroit," Bing said. "The only way we can do that is to let residents accumulate additional space. They got the option to have that space and use for whatever they want to do including expanding their homes."
The announcement comes days after a massive land sale to a private investor sparked a heated dialogue on land sale procedures in the city.
City officials faced criticism for not presenting a fair land acquisition process in the city for residents interested in purchasing property.
Dick said that the city is working on extending the program to other areas and expending the process to apply to non-adjoining lots.
The program only offers the land incentive to residents and business owners located in the neighborhoods and "no speculators," Bing said.
For now, the program will stick to the city's Southwest and North End neighborhoods.
"We can only go as fast as we can go," Bing said. "Nine months ago this was just a dream, it was a vision, it was an idea. Today it's a reality."