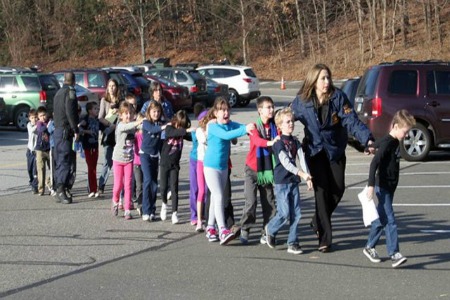 Authorities in Connecticut responded to a mass shooting at Sandy Hook Elementary School in Newtown Friday morning, the local NBC station reports.
Police reported 27 deaths, including 18 dead children and others wounded, according to the Associated Press.
Officials identified the gunman as Ryan Lanza, 20, according to CNN. Reports say that he carried four weapons, and wore black clothing as well as a bullet proof vest. He died on the scene.
Unconfirmed reports say that principal Dawn Hochsprung and a school psychologist were killed, according to a parent who claimed to witness part of the attack, CNN reported.
CBS reports that a student's father was the shooter.
Danbury Hospital's emergency room staff has readied its wing for the arrival of an unknown number of victims, a spokeswoman for Western Connecticut Health Network told News Times.
Reports say that the alleged shooter appeared in the building's main office at about 9:40 a.m., approximately 30 minutes after the school day began.
The initial 911 call said that students were trapped in a classroom with the adult shooter who had two guns, according to WABC.
Students were led single file from the schoolhouse to a nearby fire station. Parents alerted to the catastrophe by text messages and emails sent by the school district arrived hoping to find their children safe.
There are approximately 626 students enrolled in kindergarten through 4th grade classes at Sandy Hook Elementary, with another 46 faculty members, Newtown Patch reported.
http://www.huffingtonpost.com/2012/12/14/sandy-hook-elementary-school-shooting_n_2300831.html