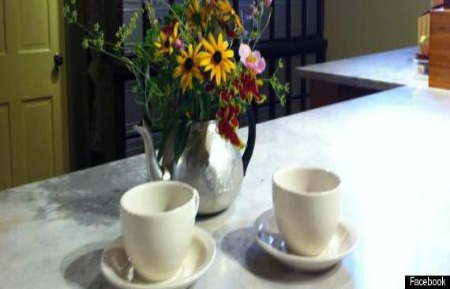 The last year has been exciting for caffeine drinkers in Detroit, what with the opening of Germack in Eastern Market, Great Lakes in Midtown, and more coffee shops in the works. But what about those looking for a more herbal pick-me-up?
That's where Socra Tea comes in. The new tea house near the Museum of Contemporary Art Detroit serves 50 kinds of loose, organic tea as well as pastries, and there isn't a coffee bean to be found.
"The beautiful thing about having a tea house is I can open up a can of tea [for customers] and they can just smell it," said owner Meg Jones. Usually, Jones said, the strong aroma of coffee would mask the scent of tea, and this way, she can walk customers through different teas.
Jones owns the shop with her fiance and parents. She's also been helped along the way by mentor Lisa McDonald, who owns TeaHaus in Ann Arbor and has shared wisdom about running a business, not to mention the study of tea itself.
"It's a little mom-and-pop shop," Jones said. "I get the love of tea from my parents … and when I got pregnant with my son I had to kick my coffee habit. I started really enjoying tea, and just saw the need for a tea house in Detroit."
Located at 71 Garfield St. in the Sugar Hill Arts District, the tea house claims to be the only one in Detroit, though Tarot and Tea plans to open in the West Village. The building is home to a gallery, architects, artists and Sugar Hill Clay, a clay studio with which Socra Tea will be collaborating.
When the shop opened on Noel Night, Jones estimated they had 600 people walk through their doors. Socra Tea keeps hours in line with nearby galleries, Tuesday through Saturday 10 a.m. to 6 p.m. and Sunday 11 a.m. to 3 p.m. Check their Facebook to see the tea of the day.
http://www.huffingtonpost.com/2012/12/12/socra-tea-detroit-midtown_n_2285662.html?utm_hp_ref=detroit