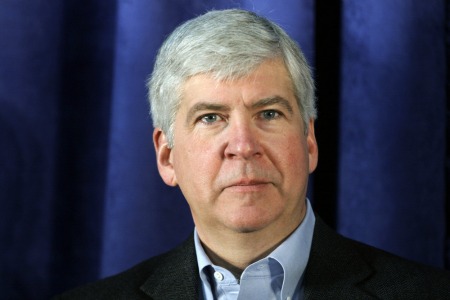 Michigan legislators approved legislation Wednesday that strengthens the state's controls over financially struggling municipalities and schools, despite strong opposition from Democrats.
Senate Bill 865, which would replace a law voters repealed in November, passed 63-46 in the state House, with several amendments added by Democrats rejected. Gov. Rick Snyder supports the legislation.
The Local Financial Stability and Choice Act gives financially struggling cities and schools a choice between an emergency manager, bankruptcy, mediation and a consent agreement. According to the Detroit News, those under control of an emergency manager could remove the state-appointed official after a year with a two-thirds vote and would have the ability to propose alternative budget cuts that could also be approved with a two-thirds vote.
Democrats say the new legislation is too close to PA 4, the law struck down by voters. Incoming House Democratic Leader Rep. Tim Greimel (D-Auburn Hills) said in a statement that Republicans are "demonstrating complete contempt for the voters of Michigan."
"In November, 2.3 million Michiganders clearly demonstrated that they want transparency within their democracy and local control of their government," he said.
The bill includes an appropriation for emergency managers' salaries, making it a spending bill and therefore referendum-proof. According to Crain's Detroit, like PA 4, it gives EMs the ability to break contracts.
The administration in Detroit, which is currently operating under a consent agreement with the state, is likely keeping a close eye on the legislation. Earlier this week, the city's financial advisory board signed off on state Treasurer Andy Dillon's move to start a 30-day review of the city's books. That's the first stage of a process that could lead to an emergency manager being appointed to run the city.
The Senate is expected to review the legislation approved by the House on Thursday.
https://www.huffingtonpost.com/2012/12/13/new-emergency-manager-law-michigan_n_2292117.html?utm_hp_ref=detroit