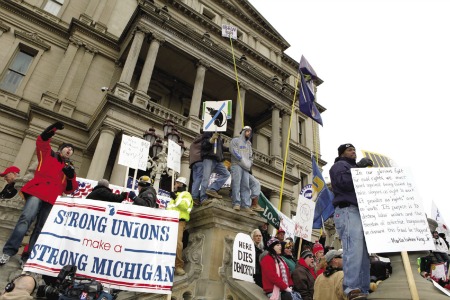 Mr. Governor, why the change?
Michigan Governor Rick Snyder has long maintained that right-to-work is divisive and that he doesn't want what took place in Wisconsin, the famous battle between labor and the Republican administration of Gov. Scott Walker, to take place here in the Wolverine State.
But why has Gov. Snyder now reversed his earlier decision to go down a road that he has condemned as divisive and not helpful to bringing people together?
What kind of pressure was brought to bear on Snyder, a man I believe is independent, able to make decisions that are not politically toxic regardless of the kind of legislature he's dealing with in Lansing?
In interviews during the campaign and after his election, Snyder told the press and journalists like myself who've sat down with him numerous times for interviews that he wants to stay clear of divisive politics. And yes, in politics your words matter.
And during the gubernatorial campaign, Snyder hardly ever engaged in inflamed rhetoric or right wing politics, maintaining a calm and moderate demeanor.
When former Michigan Attorney General Mike Cox and other GOP gubernatorial candidates were busy and proudly hanging out in Tea Party Express buses, Snyder was trying to convince independents that politics should not drive decision-making in Lansing. He lamented divisive politics in Lansing and stayed clear of things that would put him in the "same ol' politician" column.
That moderate posture earned him the endorsement of Michigan's most respected former Republican governor, Bill Milliken, the Republican who championed many moderate legislative initiatives including protecting the environment.
Of note was Milliken's special relationship with former Detroit Mayor Coleman A. Young, and Milliken talked about his relationship with Young anchored on mutual respect and trust at an event I attended at the Detroit Opera House that honored his legacy.
Thus the entrance of Snyder into the political fray with a moderate posture was welcoming by some and held with suspicion by others because he wasn't running as an independent but, rather, under the Republican column.
Nevertheless, Snyder maintained an independent posture that he was his own man. He repeated many times in interviews that he was not driven by politics but the business of making Michigan a desirable place to do business and grow jobs. How he does that is up for debate.
And the governor's moderate posture struck a chord with supporters and skeptics when he became the only Republican governor in the nation who refused to sign a letter to repeal the historic Affordable Health Care Law, the signature legislation of President Obama.
Again, Snyder's moderate position gained another credit when he vetoed a package of bills that would have made it difficult for African Americans and other people of color to vote in the Nov. 6 general election by requiring photo ID at the polls.
But the governor's sudden Damascus ephiphany in support of right-to-work is alarming after the divisiveness of the Wisconsin battle, including the waste of resources that were mounted to recall Gov. Walker.
Wisconsin attracted unwarranted attention from around the nation as a state that wasn't inviting to workers.
Wisconsin knowingly earned the reputation as a hire-and-fire state, which sends out a chilling message.
The almost Armageddon-type battle we witnessed in Madison created such a negative image of Wisconsin that voters eventually fought back, giving that state to President Obama in the presidential election rather than Gov. Mitt Romney, despite the fact that his running mate, Congressman Paul Ryan, was from that state.
Has Wisconsin learned its lesson?
We hope so.
Labor has been an integral part of America's industrial revolution and it continues to remain one of the lasting institutions in this democratic experience, fighting for better wages and better working conditions for the working class.
In other parts of the world, multinational corporations are running large factories and sweatshops in horrible conditions that are not even fit for people to work in. Yet their workers risk their lives every day to show up at those sweatshops and factories, earning little and working from dawn to dusk, making many of the clothes we wear.
Thank God for labor laws, that cannot happen here in the U.S. That is the essence of the philoshophy that gave birth to labor around the world.
Does labor have issues?
Of course and there are many.
Is labor complacent?
Sometimes it is and has not done enough to address the fact that the changing times demand new ways of doing business.
Yet we cannot nullify the basic principle that informed the founding of labor in exchange for fancy economic calculations and unproven results.
I have yet to see any strong and serious economic indicator that projects empirical data that says right-to-work will make a state like Michigan move forward economically.
In fact, the economy in Michigan is coming back, and Snyder is taking credit for the comeback. Why then push legislation that would fracture the working relationship between workers and their employers?
Just as businesses have chambers of commerce and people are free to become members of those chambers to advocate for their interests, so must working people have the option to become part of organized labor.
It is damaging to create legislation that stifles workers' or business owners' ability to become members of a chamber of commerce.
Some have suggested that Snyder is being used by a right wing legislature that's bent on revenge for Obama's re-election and the failed push in Michigan to have collective bargaining enshrined in the Constitution.
Collective bargaining rights got their roots and firm support during the administration of two former moderate Republican governors, George Romney and William Milliken. Why is Snyder taking a different path?
The buck stops with the governor and it is not beyond hope that he will listen to reasonable arguments.
The governor's moderate reputation is on the line with the push for this kind of legislation. Added to this conundrum is a package of anti-abortion bills also making its way to the governor's desk that would allow doctors to inject their belief in carrying out medical procedure as abortion.
That means any doctor can deny an abortion based on their religious conviction and an employer won't be responsible for the cost.
The real victim here is birth control because the legislation is aimed at keeping birth control pills away from women.
Is Michigan becoming a theocracy or a democracy? Snyder owes voters an answer to this right-wing storm that has hit the state.
Will the next move by the right wing legislature in Lansing be to secede from the union now that Obama has won a second term?