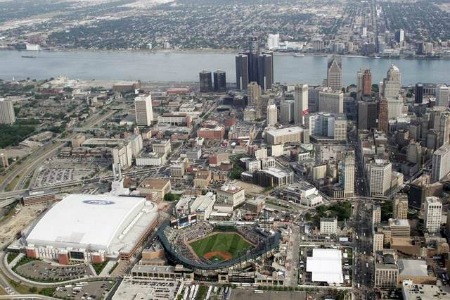 Wake up Detroit movers and shakers! This is a crucial time that calls for bold moves and long-term vision, not only for Detroit, Michigan's largest city, but the entire state..
Now that the Ilitch organization has finally put it out on the table their vision for building a new entertainment district downtown anchored by a multipurpose arena that would be home to the Ilitch-owned Red Wings, and hopefully the Pistons, I say make it happen with the quickness.
As Detroit continues to dig itself out of the economic disaster of 2007 that sent the city, state, country and the auto industry on a precarious and uncertain future, this proposed venue would give the Motor City an enormous shot in the arm.
All of Detroit leaders need to look at transformation Indianapolis and San Antonio undergone. Two smaller cities that were both seeking to define themselves. Each city recognized and acknowledged the future and regenerated themselves as sports entertainment venues.
Indeed sports and walkable entertainment collectively is the new model to ensure a city's rotation in hosting the mega-sporting events like the Final Four, Super Bowl, NBA All-Star Weekend and many other sports and entertainment events.
Sure there are those that will Detroit's finances, the many vacant homes, and the continued Urban American homicides. Distracters will talk about the neighborhoods needing special attention and rightfully so. However, the dynamics of inner cities in America is a national problem of economics, employment, shifting population, and old infrastructure.
But one problem is no reason to hold up another potential uplift. If indeed the proposed multipurpose arena is commenced, it would not only host hockey and basketball, it would host a range of shows, concerts and other events, while the broader district would include residential housing, retail shopping, office space and more.
What more needs to be said? The City Council, Mayor's Office, and state government needs to all get on board and help turn this vision into a reality.
I have been to both San Antonio and Indianapolis and seen how the new model of building all their sports venues in a walkable proximity. In conjunction with the arenas and stadiums hotels, eateries and housing have evolved.
Take the Los Angeles Staples Center for example. I was in LA when the developers started building the arena and many said who will perform there and that it was a waste of money and resources.
Well, the Lakers and Clippers and Kings after seeing the venue quickly abandon their arenas. The Staples Center has galvanized a three block district called LA Live that has clubs, restaurants, theaters and hotels.
The LA downtown area before the Staples Center and LA Live was built was a waste land of poverty.
A number of cities have shown us how a city came use the sports entertainment model to regalvanize a downtown and city.
An Ilitch family's Olympia Development news release quoted George W. Jackson Jr., the city's top development official and president and CEO of the Detroit Economic Growth Corp., as saying the plan "makes good" business sense.
"It's not a plan for an isolated, single-use structure," Jackson said in the statement. "Instead, it builds on the clear successes we've already had downtown integrating districts that feature entertainment, and support commercial, retail and residential development around them."
The Ilitch organization pegged the probable price tag at $650 million. Legislation introduced in Lansing would create a new "catalyst development project" that could benefit from support from the Michigan Strategic Fund and also from the use of Downtown Development Authority tax revenues that support projects in the central business district.
"It's always been my dream to once again see a vibrant downtown Detroit," said Mike Ilitch, chairman of Ilitch Holdings, in the statement. "From the time we bought the Fox Theatre, I could envision a downtown where the streets were bustling and people were energized. It's been a slow process at times, but we're getting there now and a lot of great people are coming together to make it happen. It's going to happen and I want to keep us moving toward that vision."
It has been my vision, too!! So lets keep it moving.
Leland Stein can be reached at lelstein3@aol.com or Twitter at LelandSteinIII.
About Post Author