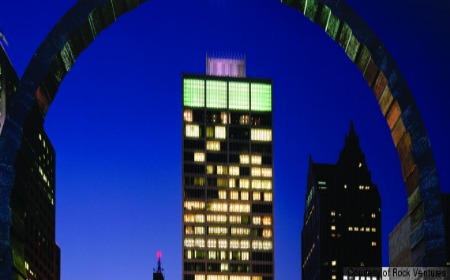 Detroit billionaire and Quicken Loans founder Dan Gilbert added another valuable piece of Detroit's downtown skyline to his real estate portfolio on Monday.
According to a release sent by Rock Ventures, which manages GIlbert's varied investments and business holdings, Gilbert has completed the purchase of One Woodward Avenue. The 1962 building was designed by the prominent architect Minoru Yamasaki. Yamasaki's work on One Woodward Avenue is credited as an early template that led to the architect's design of the former World Trade Center.
The purchase of One Woodward Avenue adds 333,000 sq. ft. of commercial real estate to Gilbert's sizable downtown real estate holdings. Rock Ventures said they plan to renovate One Woodward Avenue with a focus on attracting more tech-oriented companies to the downtown district.
"The One Woodward building is located in the heart of Detroit's technology core, and provides us more space to further accommodate our growing family of companies and the increasing number of businesses that want to leverage the opportunities made in Detroit," Gilbert said.
The 26-story building, which is located at the corner of Jefferson Ave. and Woodward Ave., is currently 60% occupied with commercial tenants, including several law firms and the Detroit Regional Chamber. Rock Ventures says that percentage will jump to 90% next month when Quicken Loans leases an additional eight floors in the building.
One Woodward Avenue is the latest skyscraper to be snagged during Rock Ventures' downtown real estate shopping spree. Since January 2011, the entity has purchased 10 buildings holding almost 2.5 million square feet of office space, plus two parking garages with room for 3,500 vehicles.
Just last month, Rock Ventures also began building from the ground up. The company is currently constructing a 33,000 square foot retail development with a 10-story parking garage attached. The new Z-shaped building, which still lacks a quirky name, will create space for at least 10 new downtown retailers.
https://www.huffingtonpost.com/2012/12/03/one-woodward-detroit-dan-gilbert_n_2232486.html?utm_hp_ref=detroit