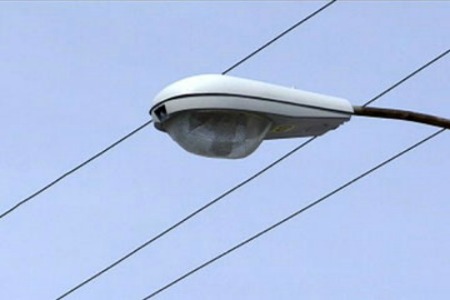 HIGHLAND PARK (WWJ) – Budget problems forced the city of Highland Park to lose two-thirds of its street lights but some people refuse to be left in the dark.
It's been nearly two weeks since a solar street light was installed in Highland Park. One of the people behind the project, Highland Park native and community activist, Allen O'Neil said interest in the solar lighting project is growing.
"We have been inundated with interest from all over the world, all over the country in particular about how we did this. Quite frankly, we are doing this in the northern most climates now and we are able to do this and warrant the product for 10 years now," he said.
"We are hoping to put 200 of them in Highland Park over the next several years," said O'Neil. "The city accesses that – that is what they need to meet their lighting needs. It all started in reaction to street lights being taken out of Highland Park."
The $6,200 solar street light on Victor street was paid for through online donations.
O'Neil got involved in the project after city leaders allowed DTE Energy to repossess nearly two-thirds of the city's street lights because the city was not able to pay its bill.
To donate toward solar-powered streetlights in Highland Park, click on here.
By check: Make out to Soulardarity, and mail to Soulardarity, in care of St. Benedict Roman Catholic Church, 45 Candler, Highland Park, MI 48203.
https://detroit.cbslocal.com/2012/12/03/activist-helps-flip-the-switch-on-darkened-highland-park-street/