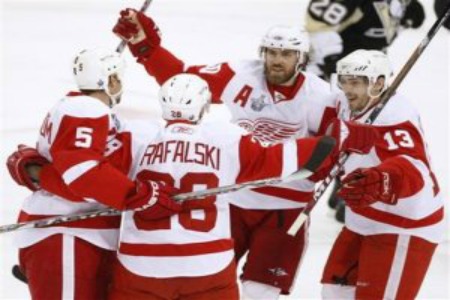 DETROIT (WWJ) – Forbes Magazine says the Detroit Red Wings are a big money-maker among NHL franchises.
Their annual list puts the Wings' value at $346 million for the 2011-2012 season. The Wings are rated sixth-highest in the 30-team league, but down two spots from last year.
Despite the lockout, the Illitch-owned franchise actually posted a three percent gain over last year.
According to the list, 13 teams in the league are believed to be in the red, with the Phoenix Coyotes in the worst shape with $20.6 million in losses.
Here's the Top 10 list:
Toronto Maple Leafs — Team value : $1 billion
New York Rangers — Team value: $750 million
Montreal Canadiens — Team value: $575 million
Chicago Blackhawks — Team value: $350 million
Boston Bruins — Team value: $348 million
Detroit Red Wings — Team value: $346 million
Vancouver Canucks — Team value: $342 million
Philadelphia Flyers — Team value: $336 million
Pittsburgh Penguins — Team value: $288 million
Los Angeles Kings — Team value: $276 million
https://detroit.cbslocal.com/2012/11/29/forbes-detroit-red-wings-are-6th-most-valuable-nhl-franchise/
About Post Author