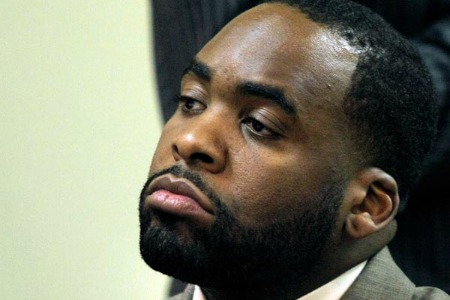 DETROIT (CBS Detroit) – Former Detroit Mayor Kwame Kilpatrick is in the midst of being tried on federal corruption charges, but that hasn't stopped him from doing his part for the city.
On posts to Twitter and Facebook Wednesday night, Kilpatrick said he stopped a crime in progress when the would-be thief recognized him and saw it as a photo opportunity.
Kilpatrick said the man was breaking into a house on LaSalle, the same street as his mother's home, which is where he's staying while on trial: "Dude breaking into a house on Moms street. I yelled 'Hey get out of there.' He said 'Damn, OK Kwame; Then asked me for a picture. Wow!"
Replying to a Twitter follower, Kilpatrick said opted not to turn the man in — apparently in his own self-interest. "No Way! The police would book me for sure."
Meantime, a longtime worker at the Detroit Water Department was expected to take stand for a third day in the City Hall corruption trial.
Kilpatrick is charged with fraud, bribery, tax crimes and a racketeering conspiracy. His father, Bernard Kilpatrick, Detroit contractor Bobby Ferguson and the city's former water boss Victor Mercado are also on trial in Detroit federal court.
All four defendants have pleaded not guilty to charges of racketeering, bribery and extortion. Kilpatrick was mayor until fall 2008 when he resigned in an unrelated text-messaging scandal.
The federal trial is expected to last about four months, stretching into 2013.
Stay with WWJ Newsradio 950 for the latest from City Beat Reporter Vickie Thomas.
http://detroit.cbslocal.com/2012/11/29/kwame-to-the-rescue-ex-mayor-claims-he-thwarted-crime/