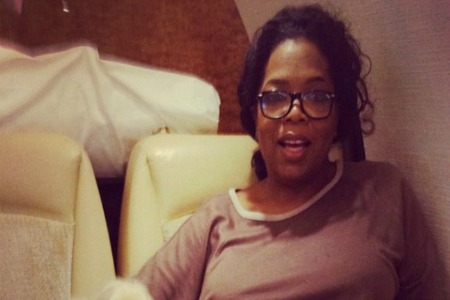 Oprah Winfrey aboard her private jet, photo via Oprah's Twitter account @Oprah.
People are buzzing today about Oprah's "awkward" moment on Twitter. The "Queen of Talk" recently took to social media to rave about the Microsoft Surface, but wound up sending out the message via her iPad.
"Gotta say love that SURFACE! Have bought 12 already for Christmas gifts. #FavoriteThings," the talk show host tweeted to more than 14million followers earlier this week.
Her message received more than 400 "retweets" and hundreds of "favorites."
She also tweeted the things that she loved about the Surface to a fan – also while using Twitter for iPad: "@bmartin2011 they're different. Picture seems #sharper on Surface. #FavoriteThings" and "@bmartin2011 also keyboard easier for me on Surface. #FavoriteThings."
The irony in all of this is that in 2010, during an episode of The Oprah Winfrey Show, Oprah's announced that her "number one favorite thing ever" was the iPad.
"I know it's wrong to be in love with a thing. But from our very first moment together, I knew it had stolen my heart," she announced, while dancing around an iPad with angel wings that hung from the ceiling.
By the looks of things, Oprah still adores her iPad.
Whether or not her endorsement of the Microsoft Surface will spike sells this holiday season, has yet to be determined.
https://thegrio.com/2012/11/22/oprah-awkward-moment-tweets-praise-for-microsoft-surface-from-her-ipad/
About Post Author