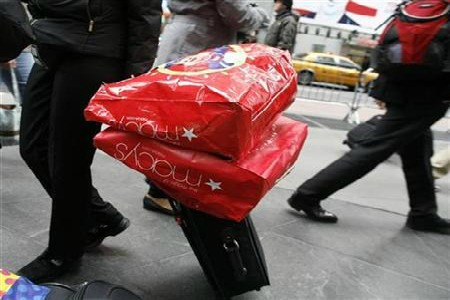 DETROIT (WWJ) – If a new survey is any indication, retailers in Michigan could see a profitable holiday shopping season.
A survey commissioned by Deloitte found that almost 64 percent of the Michiganders who responded say their financial position is the same or better than last year, and half think the economy will improve in 2013 — their most positive outlook since 2010. Their response is a significant increase from last year when only 31 percent felt similarly.
As for holiday spending, state shoppers expect to spend an average of $950, which is about the same as last year. Consumers plan to spend an average of $383 on gifts, which is comparable to consumers nationally. More than two-thirds will use debit cards, cash or checks to play for the majority of their gifts, compared with 29 percent who will charge their credit cards.
Shoppers in Michigan said they expect to buy the same number of gifts as last year and plan to spend about the same amount per gift as last year. Clothing (52 percent) and gift cards (47 percent) top shopping lists for the second consecutive year. Books (37 percent), electronics (34 percent) and games, toys and dolls (33 percent) also are expected to be popular.
Nearly half of survey participants in Michigan said they plan to shop online this year. Eighteen percent indicated they will make most of their purchases via the Internet, with almost 70 percent of respondents saying they expect to spend more or the same online as last year.
This appears to align with Deloitte's forecast for a 15 to 17 percent rise in non-store sales nationally, nearly three-quarters of which results from the online channel. More than two-thirds of consumers surveyed say they are more likely to shop from online retailers who offer free shipping and more than one half prefer sites that offer free returns.
A new trend this year is the use of smartphones, with almost 66 percent saying they plan to use them in their shopping adventures. Of that group, more 83 percent said they would use their smartphones when visiting a brick-and-mortar store.
Despite the stress of the holidays, 54 percent of survey respondents say the season is among the happiest times of the year for them.
The survey was commissioned by Deloitte and conducted online by an independent research company between September 14 and 24, 2012. The survey polled a sample of 5,089 consumers nationally with a Michigan sample of 500.
https://detroit.cbslocal.com/2012/11/23/holiday-shopping-michigan-consumers-optimistic-on-economy/
About Post Author