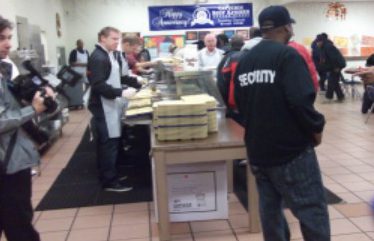 Photo Credit: WWJ/ Florence Walton
DETROIT (WWJ) – Three former Detroit Red Wings players are celebrating Thanksgivingweek by trading in their hockey gear for soup ladles.
Signed autographs were in as much demand as the hot meal as Kris Draper, Kirk Maltby and Chris Osgood on Monday volunteered at the Capuchin Soup Kitchen to serve dozens of guests Monday on Detroit's east side.
"Now that we're done playing we've had more of a chance to do a lot more stuff like this, so in the past three, four months we've done quite a bit of stuff," an apron-clad Osgood told WWJ Newsradio 950′s Florence Walton. "You know, once you start doing it you see that you can actually make a difference and do some good things — it kinda gets going (and) you enjoy doing it."
Added Draper, "As soon as we got the call … this was something that I wanted to do right away. … Obviously (I'm) very fortunate to, you know, to play in the NHL and to have the career that I've had, and it's nice to give back."
Volunteer Roy Hoelscher said celebrity volunteers help lift spirits.
"People really love seeing people they have seen on TV or people they've heard about or read about coming by to show they care about the needs, and people that are homeless and in shelters and things like that," Hoelscher said. "It's always an uplifting thing."
Capuchin has been providing free meals and clothing to those in need since 1929.
https://detroit.cbslocal.com/2012/11/19/retired-red-wings-volunteer-at-capuchin-soup-kitchen/
About Post Author