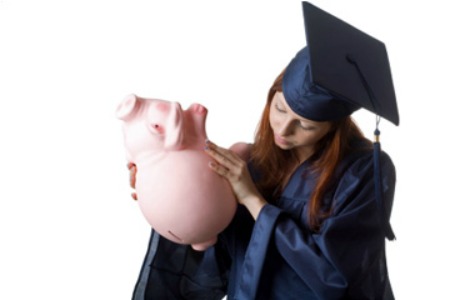 During college, students who need to take loans may not give much thought to the accumulating financial burden. With no bills coming for months after graduation, preparing for repayment may not take immediate priority.
"They're thinking about graduating and looking for a job, and have kind of put off the idea of what they're going to owe until they leave," says Chris George, assistant vice chancellor for enrollment and director of financial aid at the University of Denver.
But the six-month grace period some loans offer is likely over for class of 2012 graduates—meaning it's time to kick off a repayment plan now. Here's how to get started.
1. Face your debt: If your loans have been building, a crucial first step is to know what you're working with. On the National Student Loan Data System, students can locate all their federal loans and find debt totals, including accumulated interest.
"Before I looked online, I wasn't even sure how much my loans were, including interest," says Meghan Mitnick, a teacher in New York City with six-figure loan debt from two New York University degrees. "Even though it's really scary, know exactly what you're dealing with."
2. Contact your loan servicer: Once you know how much you owe, find out exactly who you'll be sending checks to—your student loan servicer.
"That's the question we get often: Who am I supposed to be paying?" says George of the University of Denver.
Whether you have federal or private loans, your loan servicer is your first point of contact for any questions and address updates, so don't hesitate to reach out, recommends Erin Wolfe, associate director of financial aid at Susquehanna University.
[Ask your loan servicer these 10 questions.]
"The best advice for any graduate is to remain proactive in loan repayment," Wolfe wrote in an E-mail. "If you have questions or concerns, contact the loan servicer without delay. Building a successful repayment strategy for student loan debt is essential for shaping the borrower's financial future."
3. Pick a repayment plan: The standard repayment plan for student loans is 10 years, but that doesn't necessarily make it the right option for every student.
Some borrowers of federal student loans, for example, may be better off opting into Income-Based Repayment or Income-Contingent Repayment plans, which adjust monthly bills according to pay. For help finding the right plan, online tools such as PayBackSmarter.com allow students to experiment with payment options.
[Consider two new ways to pay off student loans.]
4. Stick to a budget: Once you determine a monthly obligation, keep track of other spending to ensure you can pay all your bills. Websites such as Mint.com help University of Pittsburgh graduate Shawn Norcross as he prepares to begin repaying about $83,000 worth of student loans, he says.
"Budgeting is amazing, because whenever you can actually see it on a website or on your phone, you don't want to go over; you don't want to cheat," says Norcross, who compares financial tracking to counting calories. "It almost turns into a game of sorts where you want to win."
https://www.usnews.com/education/best-colleges/paying-for-college/articles/2012/11/06/how-to-start-paying-off-student-loans
About Post Author