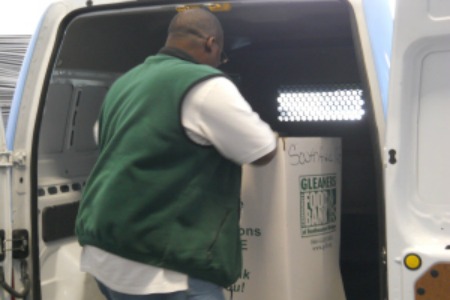 A Gleaners Food Bank worker unloads food collected in a food drive. (WWJ Photo/ Pat Sweeting, File)
DETROIT (WWJ) – Just in time to help out during the busy holiday season, Gleaners Community Food Bank of Southeastern Michigan has received one of four new Ford F-550 box trucks.
The trucks were donated to Feeding America, the nation's largest domestic hunger-relief organization.
The latest trucks bring the number donated by Newsman's Own, Inc. and Ford Motor Company to 107.
Ford Motor Company Executive Chairman Bill Ford handed over the keys to the Gleaners' truck at the food bank's warehouse on Detroit's east side on Monday.
"This is hugely important to us because, you know, the whole ethic of Ford Motor company is to give back to the community," said Ford. "This volunteer corps that you see today, that's something I launched about 10 years ago to formalize what was already happening in our company … and I wanted to make it easier for our employees to do it with company support."
Ford said his late friend, actor Paul Newman, came up with the idea that the two could help feed the hungry in America.
Ford said Newman sent him a handwritten letter asking, "Do you think spaghetti sauce and Ford trucks would be good together?" Ford said he enthusiastically answered, "Yes," and 12 years later — and four years after Newman's death — the partnership between their two companys is still going strong.
http://detroit.cbslocal.com/2012/11/19/gleaners-gets-donated-ford-truck-in-time-for-holidays/