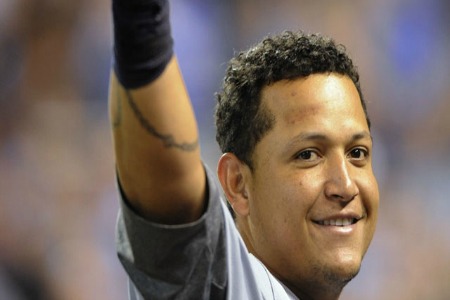 DETROIT – Miguel Cabrera was named the American League Most Valuable Player this evening in voting conducted by the Baseball Writers Association of America. The award marks his first career Most Valuable Player honor and Cabrera is the first Tigers position player to win the award since Hank Greenberg did so in 1940. Cabrera is the fourth position player in franchise history to win the award, joining Greenberg, Charlie Gehringer and Mickey Cochrane.
Cabrera led the American League with a .330 batting average, 44 home runs and 139 RBI to become the first player to win the Triple Crown since Boston's Carl Yastrzemski in 1967. It marked the 14th time since 1900 a player has captured the Triple Crown and Cabrera is the 12th player to accomplish the feat during that time. He is just the second player in Tigers history to win the Triple Crown, joining Ty Cobb who did so in 1909.
The batting title marked the second consecutive season Cabrera has topped the American League in hitting, becoming the first Tigers player to win back-to-back batting titles since Ty Cobb did so in three consecutive seasons from 1917-19. In addition to leading the league in batting average, home runs and RBI, he also led the league with 377 total bases, 84 extra-base hits and a .606 slugging percentage, while he finished second with 109 runs scored and 205 hits, fourth with a .393 on-base percentage and seventh with 40 doubles.
The Tigers have now featured the American League Most Valuable Player in each of the last two seasons with Justin Verlander winning the award in 2011 and Cabrera winning this season. It marks the third time in Tigers history that the club has posted back-to-back American League Most Valuable Player awards. Hal Newhouser won the award in both 1944 and 1945, while Mickey Cochrane won the award in 1934 and Hank Greenberg did so in 1935.