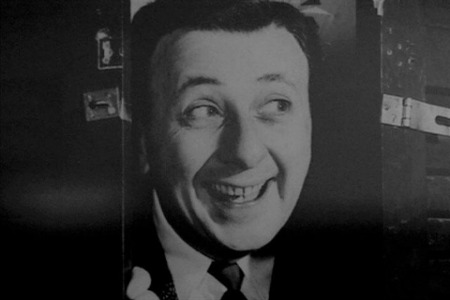 DETROIT (WWJ) – Beloved Detroit Weatherman and WWJ Newsradio 950′s own Sonny Eliot has died at age 91.
Eliot died peacefully at his Farmington Hills home with family members and loved ones by his side.
His family made the notification on Friday morning.
Eliot was born Marvin Schlossberg on December 5, 1920 on Hastings Street in Detroit, the city he adored — and the city adored Eliot and his wife Annette, right back.
Eliot's parents owned a hardware store and when times got tough, Eliot remembered with great fondness the mustard sandwiches and ketchup soup his mother and sister would make him.
Eliot said it was his mother who gave him the nickname "Sonny" and in the post-depression tough times, also gave him his legendary sense of humor Detroiters have missed since Eliot's retirement in 2010.
Eliot's college education at Wayne State University was interrupted by World War II, where he served as a B-24 pilot. A plane Eliot was flying was shot down during a bombing mission over Germany and he was captured. He spent 18 months in the Stalagluft I prison camp before being freed by the Russians when the war ended. While in captivity, he lifted the morale of the other prisoners by staging original skits and revues.
After returning home from the war, Eliot earned a B.A. in English and an M.A. in mass communications at WSU. Then, Eliot's Broadcast career took off on the radio and on television, where one of his favorite shows was "At The Zoo."
The year was 1962. "The zoo opened for the very first time early in the year and our program director said 'Hey, that would be good. You look like you belong in a cage, you get out there and do a special on the zoo,'" Eliot said in 2006.
The show was such a hit, Channel 4 made it a weekly habit. "It lasted for 17 years until Post-Newsweek came in and they had people who didn't know what was going on in Detroit," Eliot said.
But Eliot knew what was going on in Detroit, since he was one of the few broadcasters in the country who was on the same radio station, WWJ Newsradio 950, non-stop for more than 60 years.
Interview: Sonny Eliot on 50 Years in Broadcasting
Throughout his career, Eliot earned a number of awards and honors including the Sloan Award for his traffic safety tips, citations by the American Legion and American Meteorological Society, The Toastmaster International Award and the Michigan Association of Broadcasters Excellence Award for Broadcast Personality in 1998. He was inducted into the Michigan Association of Broadcasters (MAB) Hall of Fame in 2002 and the Michigan Journalism Hall of Fame in 2005.
Eliot is most famously known for his legendary weather reports, which were as much of a comedic performance as they were informational.
Unlike any other in the country, Eliot's weathercasts were a mixture of fast-paced humor, bits of far-out philosophy, one liners, improbable analogies and similes, and, not to be overlooked, easy-to-understand weather forecasts.
Sonny Forecasts Chilly Weather (@WWJ's THAW Radiothon)
Jack Lessenberry, head of the journalism department at Wayne State University and a longtime friend of Sonny's, said he was definitely unique.
"He was one of a kind, I don't think there was anybody else like him in the country. And in Michigan when he was doing the weather on Channel 4, which he did for decades, he had a 50 percent share. I don't know of anybody who had a 50 percent share, with half of all the tv sets in Detroit were tuned in to watch Sonny Eliot do his kind of unique, funny, cornball delivery. Some people loved it and some people hated it, but everybody watched him," said Lessenberry.
Don Swindell was one of Eliot's close friends and co-workers, even though the two only met in 2002.
"I felt like I'd known him my whole life. He was on in my living room since I was probably 3-years-old. But Sonny was a truely gentle person, a very, very brilliant person. And even in his old age, he was talking about projects he wanted to do in the future," said Swindell.
And Detroiters have very fond memories of Eliot, too. Several people called the WWJ Listener Comment Line at 248-455-7230 to share their thoughts:
– "He was just the best. How can you not remember while it's deer season, where we're from Enga-ringa-dinga-dine?"
– "He would tell us the temperature on the tip of the Keweenaw Peninsula and then take the Keweenaw Peninsula off of the top of the state of Michigan, and hold it in his hand and squeeze it and it would squeak like a dog toy."
– "Gosh, we remember Sonny Eliot when he would tell us that the sun would exact-adact-adact-adactly set. May his soul rest in peace."
– "Sonny Eliot was an icon and there's no way he can ever be replaced."
– "He was an all-around great guy. He was funny, witty, smart and could make you smile without even trying."
– "All my life for oh, 50 years or longer, watching him on TV was the best part of the day."
– "I'd go to the Red Wings game with my sons and we'd stop at The Lindell AC and you could always find Sonny at the end of the bar."
– "I loved him and I'm going to miss him. He was great for Detroit and Detroit was great for Sonny Eliot."
http://detroit.cbslocal.com/2012/11/16/beloved-detroit-weatherman-sonny-eliot-dies/
.