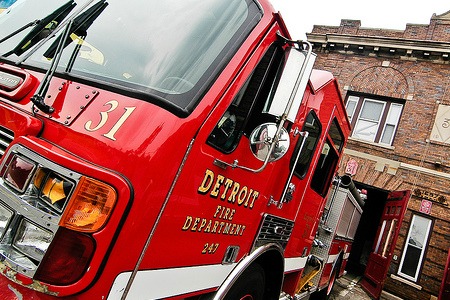 DETROIT (WWJ) – An early morning fire on Detroit's east side could have been far more tragic if not for the quick thinking of a family's 15-year-old son.
The fire broke out early Thursday morning at a home at the corner of Kirby and McDougall streets.
DeMonte Palmer was fast asleep until about 4 a.m. when he was awakened by flames.
"I looked out the window and all I seen is fire surrounding the window and I just immediately ran to my mama's room and just yelled 'Wake up! Wake up!' and they woke up immediately and then we just rushed out. We grabbed what we could, but we just rushed out. Now everything is gone, just perished in the fire," Palmer told WWJ's Ron Dewey.
A total of three homes, two which were vacant, were lost in the fire but everyone is safe, and Palmer's family credits him for saving their lives.
Fire officials say they aren't yet sure as to what started the fire, but an investigation is ongoing.
https://detroit.cbslocal.com/2012/11/15/15-year-old-saves-family-from-house-fire-in-detroit/