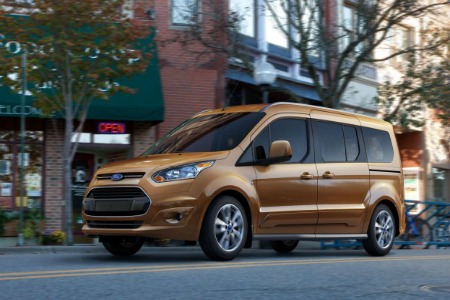 DEARBORN — (WWJ) Ford, which pulled out of the minivan market several years ago, has returned with a smaller van, that puts more of a focus on fuel economy.
The Transit Connect Wagon is a passenger version of Ford's popular Transit Connect Cargo Van. It's been modified to seat seven, and will get a fuel economy of thirty miles per gallon.
"We really see it as a different proposition than a traditional minivan," said Hau Thai-Tang, Ford vice president of Global Engineering, Global Product Development. "It's a different shaped vehicle, with different styling, great driving dynamics."
Ford will offer the Transit Connect Wagon in two wheelbase lengths, and in five or seven passenger trims.
It will be built in Ford's Seville plant in Spain, and imported to the U.S.
Marketing manager Tim Stoehr sees this as something that would attract a person who wants the utility of a minivan, but is looking for a different style of vehicle.
"When we were doing our research, we saw that there were a lot of people buying a lot of different vehicles in the marketplace, and they weren't buying traaditional minivans. They were looking for something that offered better fuel economy, but still offered the opportunity to carry large things occassionally."
Ford's Transit Connect Wagon will make its public debut at the Los Angeles Auto Show. It should be in dealerships late next year.
https://detroit.cbslocal.com/2012/11/13/ford-tries-a-different-take-on-minivans/