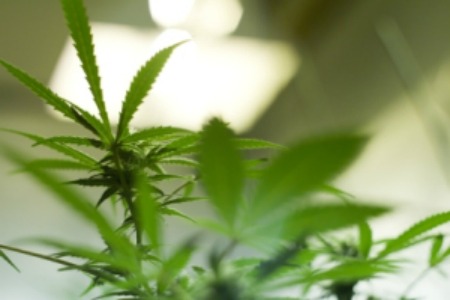 It's still a little hazy how marijuana decriminalization, which was approved by 65 percent of Detroit voters last week, will be implemented within the city limits. However, the Motor City isn't exactly venturing into unexplored territory. Different U.S. cities have experimented with various approaches to marijuana reform as far back as the 1970s.
Detroit's newly passed Proposal M will amend a 1984 city ordinance so that it will exempt adults over the age of 21 from being prosecuted for the possession of less than an ounce of marijuana on private property. With state and federal laws still on the books, though, it's hard to say how the change to the city code will affect policing and prosecution. Luckily, residents of the Motor City have several places they can look to see how decriminalization has worked in the past.
The nearby college town of Ann Arbor, Mich., for example, has a reputation for leniency towards the herb that dates back to 1972, when its city council decided to make the use or possession of marijuana a minor misdemeanor punishable with a $5 fine. The body repealed the measure the following year due to a public outcry, but voters reinstated the law in a slightly different form through a charter amendment in 1974. The fine for a first offense was raised to $25 in 1990.
Rich Kinsey, a retired Ann Arbor police detective sergeant, said during his time with the force many officers didn't even feel enforcing the law was a good use of their time.
"Factor in the time it took for the property officer to catalogue, store, then some day dispose of the contraband properly and the time it took the court staff to process the $5 ticket, it seemed a ridiculous waste of time," he said in a blog post on AnnArbor.com. "We officers felt we should be out doing 'real police work' instead of bothering with $5 weed tickets."
Since the 1970's the University of Michigan, located in Ann Arbor, has also been home to an annual festival celebrating marijuana known as "Hash Bash", but campus police take a harsher position on pot than city police and warn visitors to refrain from toking. They enforce state law governing marijuana possession, which treats it as a misdemeanor punishable by one year in jail and up to $2,000 in fines.
In 2003, Seattle, Wash. voters passed Initiative 75, which made the investigation, arrest and prosecution of adult personal use marijuana offenses the lowest law enforcement priority for Seattle police and the city attorney's office. After its passage, the Seattle City Council adopted an ordinance creating an 11-member Marijuana Policy Review Panel to implement the new policy. The Seattle Times reports that arrest rates in the Seattle area and nearby counties decreased following the passage of the law, but later climbed back up again.
"It was opposed by drug warriors from U.S. Drug Czar John Walters on down to Seattle City Attorney Tom Carr," Eli Sanders of the Stranger, a Seattle weekly, wrote of the measure in 2005, "but it nevertheless succeeded in radically altering the climate for pot smokers here, and has become the model for subsequent similar measures in Oakland, Denver, and Columbia, Missouri."
Voters in Oakland, Calif. passed Measure Z, which made "the investigation, citation and arrest" of private adult cannabis offenses the city's lowest law enforcement priority, provided for the establishment of a system to tax and regulate marijuana if it was legalized in the state, required the city to advocate for changes in state law along these lines, and created a committee to oversee the ordinance's implementation. According to a June 2009 report from that committee, Oakland's Assistant Chief of Police Howard Jordan met with them in April of that year to discuss an Oakland Police Department report on marijuana arrests dating from January 1, 2003 to December 31, 2007. The report states that "when asked if the city's lowest priority policy helped OPD focus on violent crimes, AC Jordan answered affirmatively."
In 2005 Denver, Colo. became the first major city to actually legalize small amounts of weed, when voters approved an initiative changing city code to allow adults to carry up to an ounce of the substance. Following the election, Denver's mayor, John Hickenlooper, now governor of Colorado, stated that the city's police would continue to enforce state law by arresting and charging people for possession. Denverites voted for another measure to make marijuana the lowest law enforcement priority in 2007. In December of that year, Mayor Hickenlooper appointed an 11-member Marijuana Policy Review Panel to oversee implementation of the ordinance. Arrests in the city initially rose following the passage of the 2005 initiative, but eventually dropped, reported CNBC, citing arrest records dating from 2005 to 2009.
Detroit's new law will take effect when the election results are officially certified on Nov. 20. How police and prosecutors will respond to the city's newly revised ordinance is still unsettled. But even if they continue to enforce state and federal marijuana laws, the measure could still have an effect. The recent successful state-level legalization campaigns in Colorado and Washington were preceded by the earlier local measures in Seattle and Denver.
Detroit's new marijuana law and other related cannabis measures recently approved by voters in Flint, Grand Rapids, Ypsilanti and Kalamazoo could play a role changing Michiganders perceptions about the substance. The impact this has on public opinion could be quite significant — as Michigan pot activists have stated they are gearing up for another campaign to put statewide legalization on the ballot.
https://www.huffingtonpost.com/2012/11/13/detroit-marijuana-decriminalization_n_2122108.html?utm_hp_ref=detroit
About Post Author