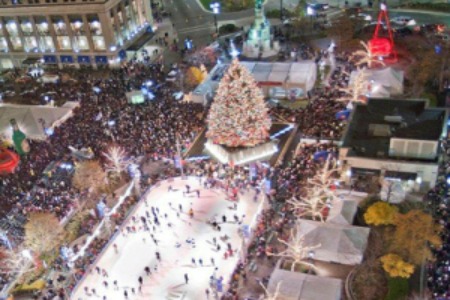 DETROIT (WWJ) – The annual holiday tree lighting ceremony in Campus Martius Park will also usher in seasonal retail to downtown Detroit.
The Tree Lighting festivities begin at 5 p.m. Friday, with entertainment, live music, ice-skating shows, photos with Santa, carriage rides and other seasonal family activities. Officials will then light the 55-foot-tall Norway Spruce, which has over 18,000 lights on over three miles of wire, at approximately 7:45 p.m.
The tree lighting ceremony will also ring in a new retail season in Detroit. More that 50 pop-up shops will be open three days each week through Dec. 22 as part of "Holiday DLight: Made in Detroit," which debuts Friday.
The lineup this year includes outdoor retailer Moosejaw, fitness studio Spinergy, Papa Joe's Snack Rack mini-market and retailers from the Somerset Collection. Two featured retailers include The Detroit Shoppe, which has Detroit-themed merchandise, Santa's Wonderland, a place where children can purchase and wrap gifts for family.
https://detroit.cbslocal.com/2012/11/14/tree-lighting-to-take-place-in-campus-martius-on-friday/
About Post Author