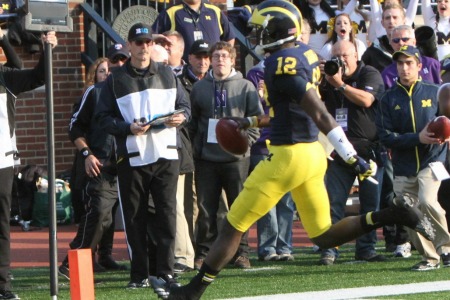 Photo:Detroiter Devin Gardner scores winning TD. – Dan Graschuck photo
ANN ARBOR – Although the University of Michigan produced one of its greatest come-from-behind wins, an improbable 38-31 overtime win at the Big House over Northwestern.
Over 112,510 were there to witness the never-say-die Wolverines keep their slim Big Ten title hope alive.
On an absolutely beautiful mid-November football day, not only was UM's exhilarating victory had all in the Big Ten talking, but among the reporters and I'm sure many others, the question of the day was is there a quarterback controversy?
Concerning current UM quarterback, junior Devin Gardner, and its pre-season Heisman Trophy candidate, senior Denard Robinson, all were wondering if Gardner had overtaken Robinson as the Wolverines' top signal caller.
In the aftermath of Gardner's stellar play, after sitting the bench for three years, he even switched to wide receiver in an attempt to get on the field. In fact, before getting the last two starts at quarterback he was second on the team in receptions and first in touchdown catches.
In an early season post-game press conference, I asked Gardner if he now considered himself a receiver. Emphatically he exclaimed: "In spring practice I saw we were a little short at the receiver position so I took some reps there and did kind of good, so they took notice and told me I might be able to help at that position right now. I began to practice hard and work on my mechanics.
"But make no mistake about it, I am a quarterback! I saw a way to help this team win games this season so I moved to receiver. But, I still have every young person's dream. I want to play quarterback for the University of Michigan. I still feel I have the ability and the heart to play the position. In fact, I look forward to throwing the ball to (Devin) Funchess next season. I can't wait to get the chance to throw the ball to him."
Sure most in the interview room smirked and discounted Gardner's retort as never going to happen, because the word around the UM press corps was that red-shirt freshman Russell Bellomy had snatched the second string quarterback job.
Conversely most considered Gardner's boast as just that a boast. However, Gardner's so-called boast had manifest itself into reality as he has taken the reigns and led Michigan to victories over Minnesota and now Northwestern.
Robinson got injured against Nebraska and Bellomy took over but looked overwhelmed in the important loss to their Legend Division foe.
As a result Michigan coach Brady Hoke turned to his quarterback turned receiver, Gardner.
I can understand the media questioning and fascination with who indeed is the starting Wolverine quarterback. Especially after all have witness the mature and poise displayed by Gardner in it last two wins.
Also the fact that Robinson was in uniform with the padded, protected elbow and went to midfield for the pregame and overtime coin flips but did not play a snap, now having missed the past 2 1/2 games since the right elbow nerve injury happened just before halftime at Nebraska, helped fuel the questioning.
Gardner showing clam and poise defused and placated any quarterback controversy coming from him noting: "This is Denard's team, and it's always going to be Denard's team until he's gone. He's done way too much for two games to change that.
"I knew my time would come eventually, whether it was this year or next year. It just happened to come a little earlier than expected. I always knew I could still quarterback this team, After all, I've been playing the position since little league."
Gardner threw for 286 yards and two touchdowns. And he ran for two scores, including a 1-yarder in overtime.
Gardner credited his coaches for the game-winning touchdown run.
The play was called by offensive coordinator Al Borges. "That was a great call," Gardner said. "When I saw how tight they were, I was like; this is the best call possible. When I got around the edge, I basically walked into the end zone. That was all coach Borges."
It is starting to look like Gardner's early season boast was more that, it was a fact that he indeed is a quarterback.
The question is still on the table, if Robinson is healthy, who will start at quarterback? Hoke, refuses to show his hand so we will all just have to wait and see.

Leland Stein can be reached at lelstein3@aol.com or Twitter @LelandSteinIII