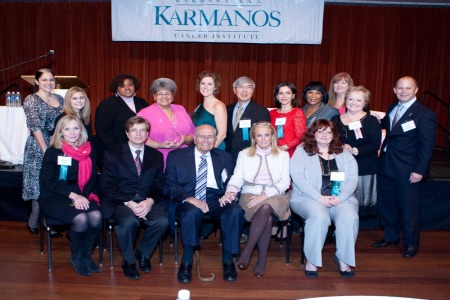 The great acts of good people were on display at the Barbara Ann Karmanos Cancer Institute's 18th Annual Heroes of Breast Cancer Awards ceremony last week.
The event, which honors the individuals and organizations that have distinguished themselves by educating people about breast cancer, conducting breast cancer research and promoting breast cancer awareness though early detection, treatment and survivorship — is steeped with emotion.
It's hard to escape cancer's reach. With nearly one in eight women nationwide diagnosed with cancer today, this fight is personal.
The Michigan Chronicle and LivingWELL Magazine was proud to stand beside these honorable individuals and, most particularly, breast cancer researchers, survivors and their families who inspire us daily.
Bravo! Bravo!
The Honorary John Dingell & Debbie Dingell
Breast cancer was the first issue John and Debbie Dingell took on as a couple thirty years ago. As the Dean of the House, Representative Dingell has had an active role in every major piece of breast cancer legislation, including the Mammography Quality Standards Act, which established national safety standards for mammography facilities, the Breast and Cervical Cancer Mortality Prevention Act of 1990, the Breast and Cervical Cancer Treatment Act of 2000 and the Native American Breast and Cervical Cancer Treatment Technical Amendment Act of 2001.
He also co-sponsored legislation to re-authorize the special postage stamp to benefit breast cancer research and is a co-sponsor of the Breast Cancer Protection Act, banning "drive-thru mastectomies" by mandating minimum stays in a hospital after mastectomies and lymph node dissections.
For decades, Mrs. Dingell has been a national advocate on women's health issues. She founded the National Women's Health Resource Center in the late 1970's to address the exclusion of women in medical research. Along with her husband, she was one of the founders of the Susan G. Komen National Race for the Cure in Washington, D.C, and was instrumental in the first Komen walks in Michigan as well. She chaired the Karmanos Cancer Breast Cancer Committee for many years, and helped establish this Heroes of Breast Cancer tradition.
LivingWELL Magazine
LivingWELL Magazine, published by the Michigan Chronicle, takes an inside look at health issues that impact African Americans, telling the personal stories behind the health challenges and triumphs of its readers. The 2011 profile of Karmanos patient and breast cancer Venessa Slayton resulted in early breast cancer diagnosis and treatment of 10 women who sought screening as a result of Slayton's story.
The Magazine has chronicled groundbreaking breast cancer research and treatment and introduced its annual Black research directory in 2011, which is credited for helping to bring awareness to the large number of African American health studies occurring here in Michigan.
LivingWELL is a media partner of the Komen Detroit Race for the Cure, which is locally presented by Karmanos Cancer Institute.
Nada Charara – PR/Marketing Director, Middle Eastern Broadcasting Network of American
Ms. Charara, the PR/Marketing director at the Middle Eastern Broadcasting Network of America, is leading efforts to inform and educate Middle Eastern women about the importance of early detection and care and, as important, works hard to overcome the cultural myth, fear and awareness prevalent among the station's Middle Eastern viewers.
"It is said women are driven by passion. Let our passion for life and humanity drive us towards prevention and unite us for the cure," commented Charara.
General Motors Foundation – Vivian Pickard, president of the GM Foundation
Health and Human Services is one of four key focus areas of the General Motors Foundation. This year, the Foundation donated $400,000 to the Barbara Ann Karmanos Cancer Institute for cancer research, bringing GM's support to nearly $6 million over the last 15 years. GM Foundation President Vivian Pickard led efforts to raise more than $1.7 million to benefit Karmanos at GM Foundation's 30th Annual Dinner.
The GM Foundation continues to be a dedicated supporter of the state-of-the-art cancer research being done by Karmanos here in Detroit.
The Young Family
Led by William C. Young, president; Amy Morgan, treasurer; William Patrick Young, vice president and Tracey Deal, secretary; the Young Family Foundation has contributed significantly toward important capital improvement and cancer research initiatives. The Foundation has funded the renovation of the outpatient clinics, infusion area and main lobby, providing patients with greater comfort while they wait for treatment in a calming and soothing environment. In addition, more than $500,000 in grants has been provided to advance novel breast cancer research focused in the area of immunotherapy.
Meghan Malley
Diagnosed with Stage IV breast cancer in March 2011, Meghan Malley underwent 15 rounds of chemo, followed by a double mastectomy, and 28 cycles of radiation– all before the age of 30. Meghan wasted no time transforming her trouble into help for others. She co-founded the Young Women's Support Group at Karmanos Cancer Institute, participated in the "In Living Pink" Fashion Show benefiting the Metro Detroit chapter of the Young Survival Coalition. and was Komen Mid-Michigan Race for the Cure's Honorary Team New Balance member. Malley opened Lansing's Race with her inspiring remarks.
"My hope is that no young woman will ever feel like she has to travel this road alone," stated Malley.
Sharon Helmer, M.D.
Dr. Sharon Helmer is the clinical service chief of the Karmanos Imaging Department and medical director of Breast Imaging. Expert screening is the cornerstone for detection of breast cancer, a disease that is highly survivable when found early. Under Dr. Helmer's leadership, Karmanos performed 32,000 mammograms and 975 stereotactic and ultrasound-guided breast biopsies, while sensitively addressing individual patient needs with compassion and concern.
In Memoriam
Robin Doreen Glover (Oct. 27, 1964 – Feb., 2012) proudly represented by her mother Denise Walloons Glover and sister.
A Market Representation Specialist for Ford Motor Company until her death at age 47, Robin's family and friends all remember her the same way: a strong and talented woman of faith. Beautiful, both inside and out, Robin was a living Warrior in Pink as an official "Model of Courage," living with lupus from the age of fifteen. She experienced renal failure, and finally battled cancer. As a legacy member of Alpha Kappa Alpha Sorority, Inc., Robin served on several health-related committees, elected leadership positions and became a Silver Star acknowledging her 25 years of dedicated service.
"The Lord put an angel in our midst to show us how to live through adversity. There's no letting go of Robin. Her spirit and drive are still very much with us," stated Denise Walloons Glover.
Kristy Johnson
Kristy Johnson learned of her cancer in her mid-thirties, and much of metro Detroit learned soon after. Married with a five-year-old daughter and a fourteen-year-old son, the Johnson family had lost their insurance through job changes. Kristy discovered Karmanos' "Helping Hands" program, funded by the Komen Detroit Race for the Cure, which provided her a lifeline and critical care. Johnson shared her story in front of WDIV TV cameras in hope of providing inspiration to others.
Lawrence Lum M.D., DSc
Dr. Lum is Karmanos Cancer Institute's scientific director of immun
otherapy and bone marrow transplant and the only U.S. researcher specializing in a treatment that combines cell- and antibody-based therapy to help "clean up" remaining cancerous cells and prevent a relapse after the patient has gone through chemotherapy. In a clinical trial begun in 2002, Dr. Lum and his team report average overall survival rates two to three times that of women with metastatic breast cancer who received other research therapies.

About Post Author