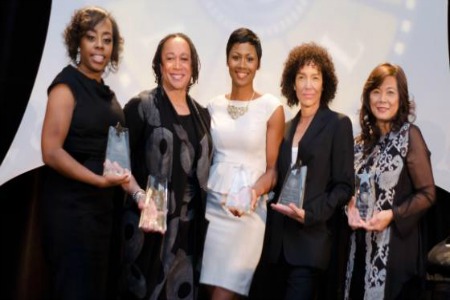 Emmy award-winning actress S. Epatha Merkerson was just one of the women honored at this year's BronzeLens Women Superstars Luncheon.
Merkerson, who is best known for her role as NYPD Lieutenant Anita Van Buren on the long-running NBC drama series, Law & Order, was the recipient of the highly coveted Legendary Superstar award.
"My mother always told me because of the kind of world we live in, we need to be better — that's what I aspire to do," said Merkerson, who received a standing ovation as she walked to the stage to collect her award. The accomplished actress also showcased her directorial debut, The Contradictions of Fair Hope, later that evening at BronzeLens.
The luncheon, which was held last Friday, was just one of the highlights of the third annual BronzeLens Film Festival of Atlanta (BLFF).
Another actress recognized for making strides in front of the camera was the beautiful Emayatzy Corinealdi, who received the Emerging Superstar award. The up-and-coming actress has gained recent acclaim for her role as Ruby in the independent feature film, Middle of Nowhere.
"I am honored to be part of this, with such amazing women," Corinealdi told the audience of about 300, mainly women, at the Atlanta's downtown Marriott Marquis hotel."When I look at these women all I see is beautiful women and all I can think of is my mom." She later explained that her mother had passed.
Women of color behind the lens were not forgotten, with three of the five awards handed out to those who have perfected their craft behind the camera.
First time filmmaker Deborah Riley Draper received the Emerging Behind the Lens Superstar award; filmmaker Stephanie Allain scooped the Legendary Behind the Lens Superstar award and; script consultant, Kathie Fong Yoneda, received the Catalyst Superstar award.
https://thegrio.com/2012/11/12/african-american-women-honored-at-the-bronzelens-film-festival/#s:bl_day2_2012-2896