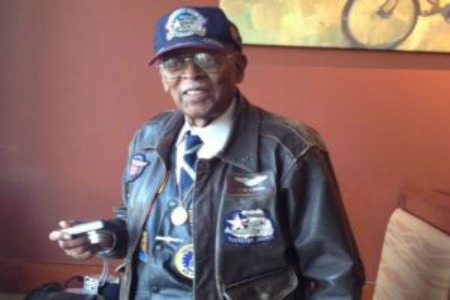 DETROIT (WWJ) – It's Veteran's Day and a World War II vet and one of the Tuskegee Airmen, the first African American pilots in the US military, says he's relaxing this veterans day.
At 90, Lieutenant Colonel Alexander Jefferson has just returned from speaking to high schoolers in Portland Oregon.
"It was exhilarating, actually exhilarating, to let the young people know that freedom ain't free, somebody's got to pay the bill," said Lt. Col. Jefferson.
Jefferson still fits into his WWII bomber jacket and remembers flying missions in France.
He flew escort for bombing missions and says there was discrimination against him and other African American pilots.
"We were discriminated against, they had to build a separate airfield in Alabama to train us to fly, we could not be integrated with the rest of the men. It was segregation and discrimination from the very beginning," he said.
"I was treated as an officer and a gentleman in the POW camp because of the Geneva Convention," he said. "I literally sat the war out, because officers that were in the camp did not have to work," he said. "Enlisted men went to separate camps and you could make them work."
Jefferson, who turns 91 this week, was shot down during World War II and spend nine months at a Prisoner of War (POW) camp, but says he doesn't think of himself as a hero.
https://detroit.cbslocal.com/2012/11/11/sporting-his-wwii-bomber-jacket-90-year-old-vet-says-freedom-aint-free/
About Post Author