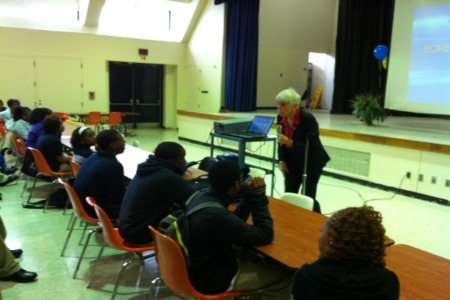 Detroit Collegiate Preparatory High School will hold a "Community Grade Conference" on Wednesday, Nov. 14, 2012 from 8:30 a.m. until 10:30 a.m. in the school's cafeteria.
The school is located in Building A on the east side of Northwestern High School.
The purpose of this conference is to provide students the opportunity to reflect upon their grades and academic path with a community leader. The process will yield weeks of reflection for students.
At 8:30 a.m., community leaders will receive the necessary supplies, a brief introduction, and a personal thank you for participating in the day's activity. By 9:00 a.m., students will enter the cafeteria in groups to be seen by community leaders for less than 5 minutes. A community leader will see as many as 10 students where they will review student grades, subject support in their area of career interests, inquire about personal/school related interests, possible changes to current practice that might help predict future success, and how classes contribute to state mandated graduation requirements.
Depending upon the total number of community members, the school expects the conferences to conclude by 10:00-10:30 a.m.
The school will stress student ownership and professionalism. The school asks community members to dress, talk, sit, and engage students with eye contact and a firm hand shake to encourage students to personalize their communication with an interested adult. The school is picking a community leader, instead of teachers and/or parents, because they are already used to and see these individuals daily. DC Prep wants to make this a unique, personal, and potentially demanding experience.
To RSVP, please call the DCP main number at 313 899-7370 and ask for Paula Johnson, Communities in Schools.
http://detroitk12.org/content/2012/11/12/detroit-collegiate-preparatory-high-school-will-hold-a-community-grade-conference/