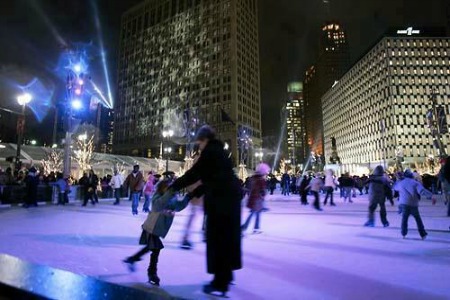 DETROIT (CBS Detroit) New York City doesn't have a corner on the idyllic image of ice skaters whiling away an afternoon on a pristine rink — because Detroit now has one too.
The skating rink at Campus Martius Park will open to the public for a weekend of pre-season skating Friday, Nov. 9 through Sunday, Nov. 11, before the rink officially opens on Friday, Nov. 16, following the Detroit Tree Lighting Ceremony.
And how's this for bragging rights: The rink at Campus Martius Park is larger than the internationally renowned rink at Rockefeller Center in New York City.
"It features surround-sound music and color-changing lighting for recreational skating enthusiasts, and a skate house to rent and change skates," supporters said in a press release, adding, "Skaters as well as spectators will enjoy the ambiance of the park, surrounded by the spectacular view of the Detroit skyline."
You're likely to work up a hunger doing all those laps on the rink, so check out rink side fare including the Fountain Bistro and Arctic Zone Concessions, which provide options for both formal and casual dining. If you're thirsty, there's a full bar at the Bistro and hot chocolate for the kids in the concession stand.
The rink is open 5 p.m. to midnight Friday through Sunday, Nov. 9-11, for adults 13-to-49-years-old, at a cost of $7. Kids 12 and under can skate starting at 10 a.m. Saturday, for $6; and Seniors 50 years old and over can skate from noon to 8 p.m. Sunday for $6.
Skate rental is an additional $3.
For more information, contact The Rink at 313-963-9393, or visit www.campusmartiuspark.org.
https://detroit.cbslocal.com/2012/11/10/campus-martius-skating-rink-opens-this-weekend/