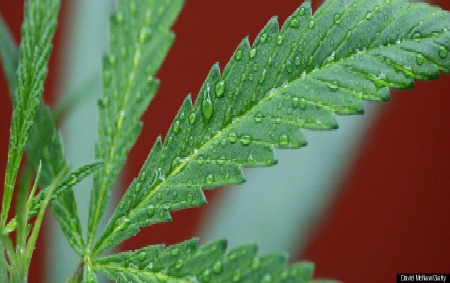 A backer of a Detroit ballot proposal decriminalizing marijuana says that the decision of voters to pass the measure Tuesday didn't come as a shock to him.
"This election result is no surprise," Tim Beck of the Coalition for a Safer Detroit, which put Proposal M on the ballot, told The Huffington Post in an email. "The City of Detroit did not spend two years in court and thousands of dollars in legal fees to keep this off the ballot because, they thought the measure would be rejected by the voters."
The ballot measure amends a 1984 Detroit city ordinance to exempt adults over the age of 21 from being prosecuted for the possession of less than an ounce of marijuana on private property. It will take effect once the results of the election are formally certified, according to Beck. A spokeswoman from the Detroit Department of Elections said certification will take place Nov. 20, two weeks after the election.
Detroit City Council wouldn't consider the issue when it was brought before them in 2010, on the grounds that the measure conflicted with state law. Following the advice of the city's Law Department, the Detroit Election Commission later voted 3-0 to block the referendum. It became the subject of a lengthy court battle before finally being certified for Tuesday's ballot.
In a prior interview Beck told The Huffington Post he supported the measure not just due to a concern for personal freedom, but also because he felt it would encourage the city's police department to rethink their priorities.
"The city of Detroit is in some very, very deep financial problems. It is on the verge of bankruptcy. The police force is stretched as thin as it's ever going to get," he said. "We've got to get out of the business of dealing with victimless crime and refocus our scarce resources on crimes that have actual consequences to other people."
It's still unclear how Detroit police will enforce the revised city code on marijuana, because state and federal laws criminalizing the substance still remain on the books.
Detroit City Council Member James Tate told The Huffington Post in a pre-election interview that he didn't think the proposal would have any immediate effect on local policing.
"We can talk the ifs, possibles, maybes, but the reality is in fact that marijuana is a federal crime," he said. "Depending on how the voters cast their ballots, it may send a message either one way or the other, but right now by law we still have to follow the what's federally mandated."
Detroit wasn't the only Michigan city to pass laws decriminalizing marijuana this election season. Voters in Flint, Grand Rapids, and Ypsilanti approved related measures, while Kalamazoo passed a proposal to establish medical marijuana dispensaries, the AP reports.
https://www.huffingtonpost.com/2012/11/11/detroit-marijuana-proposal-m-decriminalization_n_2101904.html?utm_hp_ref=detroit
About Post Author