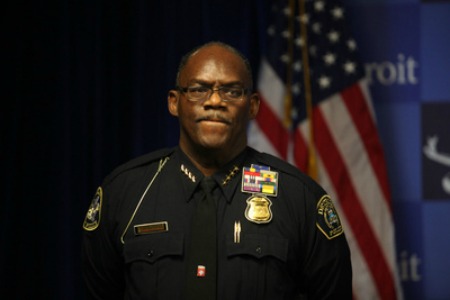 Photo: Interim Police Chief Chester Logan, guelphmercury.com
DETROIT (WWJ) – We could see a shakeup at the Detroit Police Department where some changes are coming to management in order to save the department money and comply with the consent agreement.
Interim Police Chief Chester Logan held a press conference on Thursday to announce they're looking at a "streamlining" plan which includes some key restructuring within management.
Logan said will be considering every single position — from desk jobs to foot patrol — to see if it can be done better.
"One of the things that we're lookin' at, we're lookin' at every available body that's in, let's say an administrative job. Where can we gain some efficiencies? And these are some of the things that we're doing," said Logan. "We hope to realize a savings, probably of 150 officers over the next several months."
Mayor Dave Bing announced the appointment of a Commander to the rank of Deputy Chief and the reassignment by Interim Police Chief Chester L. Logan of two deputy chiefs to new positions. In addition, the mayor announced the imminent promotion of 26 officers to the ranks of sergeant, lieutenant and inspector; as well as upcoming exams for officers who hope to attain those ranks.
He said the reorganization is expected to save the city about $1 million each year.
"The training and development of new police officers and the promotion of experienced officers under this restructuring plan is vital to our city," Mayor Bing said. "A succession plan that rewards our best officers will help transform the Detroit Police Department into a department that is prepared to meet the present and future needs of our city."
Also among the planned changes to come — restarting the Detroit police academy training class in 2013.
All of the changes will require Detroit City Council approval.
As for the future of the police chief, Mayor Bing said Logan's name is on a list of candidates that will be vetted and put before the City Council. A choice will be made in 3 to 4 months.
Now ex-Detroit Police Chief Ralph Godbee resigned last month amid a sex scandal.
https://detroit.cbslocal.com/2012/11/08/detroit-announces-plan-to-streamline-police-department/