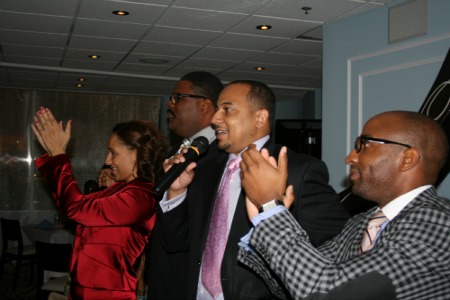 It was a celebratory scene at The Cheese Cake Bistro in Detroit Tuesday night, where more than 100 people gathered to watch election results come in.
The event, hosted in part by the Michigan Chronicle and the Detroit Association of Black Organizations (DABO) attracted many local leaders in business, politics and clergy.
State Rep. Shanelle Jackson (D-Detroit) said she was excited the moment the election was called for President Barack Obama.
"Our president has done a phenomenal job," She said. "As a state lawmaker I know the president is going to take this reelection as a mandate to go forward to help the poor, help the elderly and keep building on education and healthcare [reform]."
Bonnie Price, a nurse at St. Johns Hospital in Detroit, said Obama's re-election was an emotion moment for her.
"I feel like I could have tears in my eyes. I'm just so happy. It's been such a great movement. A lot of people forgot about the movement but we pulled through," she said.
Amid chants of "Fired up, ready to go" and "we did it" The restaurant was abuzz with energy.
Pastor David Bullock, head f the Detroit Rainbow PUSH Coalition, said he was excited about the great showing for American democracy.
"This is a historical moment. I can tell me children I was there, and I voted in 2012 for Barack Hussein Obama. Romney ran for rejection, Obama ran for re-election. We got four years to get it straight," he said.
At midnight, with 70 percent of precincts reporting, the fate of all statewide ballot proposals seemed doomed except for proposal 1, which was too close to call until
Detroit Mayor Dave Bing attended the watch party and said he was rooting for Proposal 1 would pass.
"I'm hopeful," Bing told Michronicle.com. "The only chance that Detroit has is Proposal 1 passing. We have no more tools to work with. Really."
While Bing has been a supporter of the measure that would mandate emergency managers or financial advisory boards in failing school districts and financially struggling cities.
Bullock, who has vocally opposed the emergency manager law, said he wasn't sure about the outcome. "I looks like it's gonna be a yes on 1 but you never know. I'm just excited about the democratic process and that the people got to decide."
One Detroiter business who owns a home healthcare business said he had hoped Proposal 4, which would have required the state to create a registry of home care workers, would pass.
"Those are my customers. I want my customers to be safe. I want my employees to be protected," said entrepreneur Jason Dixon. As for the presidential pick, Dixon said he couldn't be happier. "The first four years are the setup. The next four years Obama has the chance to put the right policies in place."
Angela Taylor, a retail clothing store owner in Detorit, said she it was a great night. "This whole event has been fabulous. I'm so happy right now. I just love president Obama.. He's got a good heart and he is sincere. People like sincerity. We got to see a black man elected twice. It's probably never going to happen again, at least not for another 20 years," she said.
Taylor said she agree with most of the proposals, including Proposal 1. "I voted yes on a lot of the proposals because they made sense to me. Someone has to manage [Detroit's] money because the leaders are not doing a good job."
Fast food franchise owner Steven Taylor said Obama had a lead all along but media reports made the race seem closer. "The media had to make it suspenseful. I'm ecstatic. I am glad people woke up and recognized what Bush and the republicans did to this country," He said, adding that as a business owner he supported the building of anew bridge and voted No on Proposal 6."
Ken Harris, President and CEO of the Michigan Black Chamber of Commerce, said he believed Obama was the best pick for black businesses.
"The historic ramifications of the election of an African American President are monumental. Saving the auto industry today signifies why he won the industrial belt states," Harris said. "In Obama we saw someone who supports business and wants to see business owners succeed. The difference between the Black Chamber of Commerce and other chambers of commerce is we bring the community into prospective."
On Wednesday morning with all precincts reporting, it is clear that voters struck down all six statewide proposals including Proposal 1.