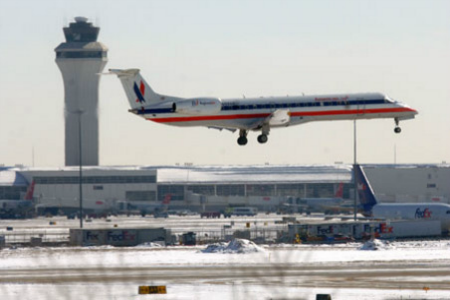 Photo Credit: Mark Bialek
ROMULUS (WWJ) – If you're headed by air to the East Coast, you may want to double check the status of your flight.
Both Delta and United Airlines have pre-canceled multiple flights because of a bad storm that's hitting the East Coast.
So far, we are seeing the majority of cancellations coming to and from parts Pennsylvania, Connecticut, New Hampshire, New York and New Jersey.
Metro Detroit Airport officials advise that anyone heading to or expecting arrivals from these areas go online and check the status of their departures. (Click here to check on your flight status).
CBS New York is reporting snow, slush and cold temperatures are making things miserable for the Tri-State Area a week and a half after Superstorm Sandy struck, devastating the coast and knocking out power to millions.
Wednesday's airlines disruption comes after Sandy caused more than 20,000 flight cancellations.
http://detroit.cbslocal.com/2012/11/07/delta-united-airlines-cancel-flights-ahead-of-noreaster/