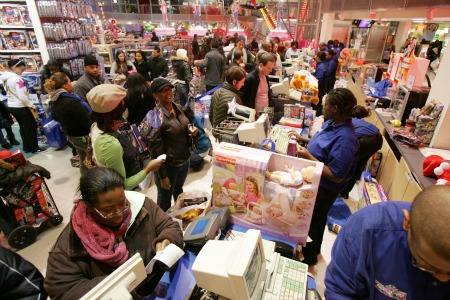 Black Friday is the biggest shopping day of the year and this year it is expected to be bigger than ever. One thing that is different from past years is that this year, retailers are keeping quiet about just what super deals shoppers will find.Speculation is that big-screen televisions will be at the top of the list along with personal computing products like the Apple iPad. But regardless of what is on sale, there are some places that every Black Friday shopper should visit for savings.
Southland Center
23000 Eureka Road
Taylor, MI 48180
(734) 374-2800
www.shopsouthlandcenter.com
Black Friday Hours: 6 a.m. until 10 p.m.
Often forgotten but never to be missed, Southland Center is located just west of Telegraph Road on Eureka Road in Taylor. Here you will find some of the best shopping around. The floor space of the mall in common areas is transformed during the Christmas shopping season into a large collection of standalone kiosks offering unique and hard-to-find gifts. The large anchor stores will be offering huge discounts on Black Friday offerings and the smaller shops will be doing their best to bring shoppers in. The nice thing about Southland Center is its location and the stores that are near the mall. Stores like Meijer are just across the street and Gander Mountain — the outdoors lover's paradise — is within a short distance from the mall.
Great Lakes Crossing Outlets
4000 Baldwin Road
Auburn Hills, MI 48326
(877) 746-7452
www.greatlakescrossingoutlets.comBlack Friday Hours: Opening at 9 p.m. Thanksgiving night and closes Friday at 10 p.m.
If you are looking for good deals and a marathon shopping experience, then head to Great Lakes Crossing when the mall will be open 25 hours straight for Black Friday sales. With 185 outlet and conventional retail stores, if you can't find a deal there, you're not looking. Where else would you find Lord & Taylor, Neiman Marcus, Banana Republic and DNKY shopping all in one place? If feeling a bit fatigued from the day's shopping, enjoy a meal at one of the many eateries nearby.
The Somerset Collection
2800 W. Big Beaver Road
Troy, MI 48084
(248) 643-6360
www.thesomersetcollection.comBlack Friday Hours: 8 a.m. until 9 p.m.
If you are looking for deals from some of the best retailers in the nation, then The Somerset Collection is the place to be on Black Friday. Beginning at 8 a.m. when Santa officially opens the mall for the holiday shopping season until 9 p.m. when Somerset closes, there will be a huge variety of stores where you will find some of the best deals around. With enclosed parking and a mall that is festive, you will find everything you need in an atmosphere that can be considered nothing less than stunning.
Twelve Oaks Mall
27500 Novi Road
Novi, MI 48377
(248) 348-9400
www.shoptwelveoaks.comBlack Friday Hours: Early shopping with select retailers begins at midnight; full mall opens at 6 a.m.
With 1.5 million square feet of shopping space on two levels and nearly 200 stores, Twelve Oaks Mall is one of the largest indoor shopping locations in Southeastern Michigan. With anchor stores like Nordstrom, Macy's and Lord & Taylor, the selection of products for the shopper are nearly endless. The mall is also home to one of the Apple retail stores in the area where it is rumored that some great deals will be available on iPads during Black Friday.
https://detroit.cbslocal.com/top-lists/best-places-for-black-friday-shopping-deals-in-the-detroit-area/