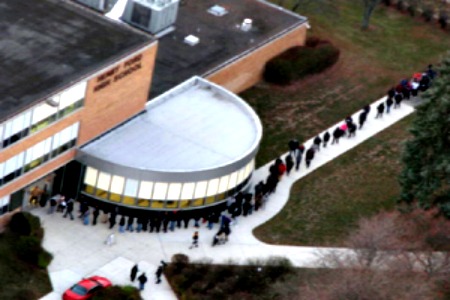 Voters are seen lined up outside Henry Ford High School in Detroit. (credit: WWJ/Bill Szumanski)
DETROIT (WWJ) – As polls prepared to close in Michigan, the state branch of the NAACP has reached an agreement with the city of Detroit and lead counsel Chrystal Crittendon to keep the polls open in Detroit past 8 p.m., regardless of how long the lines are.
Voters who got in line by 8 p.m. will be allowed to vote, no matter how long it takes — which is what state law requires, regardless. [This is MLC 168.720, enacted in 1954].
Said Detroit Branch NAACP President Rev. Dr. Wendell Anthony, "This law must be respected all the rights of all voters must be projected for this is most critical and historic in our nation."
The NAACP had threatened to file a motion because the ballot in the city is so lengthy that it has taken an exorbitant amount of time for Detroiters to finish their ballots.
WWJ Legal Analyst Charlie Langton said this is because the ballot's uncommonly long length.
"It is taking so many hours for the people to fill out the nearly 80 questions that they have to do," reported Langton, outside federal court in Detroit.
Voter turnout is said to have been heavy all day across the state.
The polls are now officially closed in most of Michigan on this Election Night 2012.
Just before 10 p.m., voters were still in line at a 7 Mile Road and Schaefer precinct in Detroit. Some of those still waiting told WWJ they were getting irritated by how long it was taking, while others said they're just happy they're getting a chance to cast their ballot
https://detroit.cbslocal.com/2012/11/06/naacp-asks-that-polls-stay-open-late-in-detroit/
About Post Author