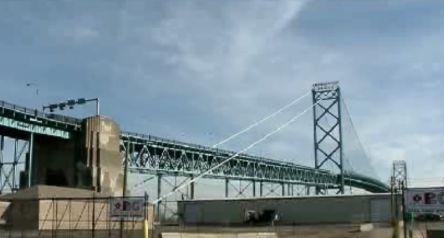 Is the proposed New International Trade Crossing really a bridge to nowhere?
What with $4.65 million in ads blaring opposition to the planned government-funded span connecting Detroit and Canada, we couldn't blame you for being confused.
We've asked two people with strong opinions on the new bridge's effects on the state's economy, jobs report and tax increases to make their arguments on whether Proposal 6 should be added to the Michigan Constitution. Backed by billionaire Ambassador Bridge owner Matty Moroun, the measure would require voters to approve any new bridge or tunnel from Michigan to Canada. The legislation was proposed by the Detroit International Bridge Co. and is being sponsored by a committee called The People Should Decide.
Read opinions from each of our bloggers, and let us know whether their arguments changed your mind.
Here's the official ballot text:
PROPOSAL 12-1
A PROPOSAL TO AMEND THE STATE CONSTITUTION REGARDING CONSTRUCTION OF INTERNATIONAL BRIDGES AND TUNNELS
This proposal would:
Require the approval of a majority of voters at a statewide election and in each municipality where "new international bridges or tunnels for motor vehicles" are to be located before the State of Michigan may expend state funds or resources for acquiring land, designing, soliciting bids for, constructing, financing, or promoting new international bridges or tunnels.
Create a definition of "new international bridges or tunnels for motor vehicles" that means, "any bridge or tunnel which is not open to the public and serving traffic as of January 1, 2012."
Should this proposal be approved?
https://www.huffingtonpost.com/2012/11/05/michigan-proposal-6-debate-bridge_n_2070649.html?utm_hp_ref=detroit
About Post Author