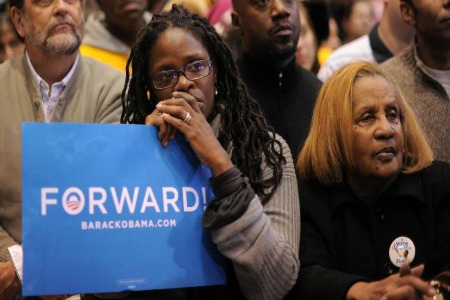 Supporters listen to US President Barack Obama during a campaign rally in Cincinnati, Ohio, on November 4, 2012. (Photo: JEWEL SAMAD/AFP/Getty Images)
Many pundits and pollsters predict that President Barack Obama is poised to win re-election on November 6th, but what if he loses? And how will black America respond?
On the eve of the presidential election, two major polls show President Obama as the favorite to win. And the prediction markets give him somewhere between a 70 percent and more than an 80 percent chance of winning. And yet, the only poll that ultimately matters is on Election Day. Anything can happen, and black America could wake up to a Mitt Romney victory on November 7.
An Obama loss would almost certainly disappoint African Americans, and could engender any number of emotions, including hopelessness and gloom. The racial polarization of this election cycle—combined with allegations of voter suppression against minorities and other groups– could also lead to resentment if blacks believe the election was unfairly administered, if not stolen. However, such circumstances could also embolden black voters and create a sense of urgency that it is time to rebuild.
For black voters, the stakes are high.
"This is the most significant political season we have seen in a long time," said Rev. David Bullock, head of the Detroit Chapter of Rainbow-PUSH. "Malcolm X said something very important in that there are only two ways to change America. You will only change America by saying 'Give me liberty or give me death.' Or you will change America by entering the ballot box."
Rev. Bullock told theGrio this election is about national priorities, and whether the country spends more on national defense or education.
Turnout by the base could prove decisive for an Obama victory. "Hopefully, before he loses, black people will do everything they can to ensure that the best person–and I do think that out of the two that President Obama is the best–is the president of the United States," said Phillip Jackson, the executive director of the Black Star Project, a Chicago-based educational program providing mentoring to thousands of students and parents through its Saturday University program. "I would hope that he would win and that the community would be energized," he added.
Jackson also thinks an Obama loss would be devastating. "Black America is already in trouble, so that would be compiling those feelings of hopelessness, those feelings of weakness. We're already in trouble. We're already the most challenged ethnic group in this country. And so now, you're talking about losing an African-American president? It would be devastating. You would almost see African-Americans crying in the street," he said.
Further, some in the community fear black voters lack an awareness of what is at stake. An issue of concern to one African American leader is complacency and apathy among black voters, a lack of interest in being engaged in the electoral process.
"Some of y'all sitting here right now know you ain't voting. That's how we ended up with [Michigan Gov.] Rick Snyder. Some of y'all voted for him," said Rev. Charles Williams III, president of the Michigan chapter of National Action Network. Rev. Williams believes the black electorate must make a concerted effort to retake the White House.
"Here we are in 2012. We have Facebook, Twitter, e-mail, cell phones, iPads, iPhones and we still can't seem to get together on how we're going to do this thing," Williams said. "Fannie Lou Hamer… was beat up in a jail cell because she was trying to register folks in Mississippi to vote. Medgar Evers was slain in his driveway….There ain't no dogs biting you. There ain't nobody shooting at you. Ain't nobody beating you up, and you're just too lazy and selfish to get up, get out, and vote? It's time to get up," Williams admonished a crowd at a voter rally in Detroit.
Despite the gains made since the civil rights movement of the 1950s and 1960s—including civil rights and voting rights legislation and the nation's first black president—race remains the elephant in the room. Moreover, racism has worsened in the age of Obama–reflecting a white backlash–and politics have become far more racially polarized. Militia groups have mobilized in due to the economic recession and their hatred of the president, as the Tea Party and birther movements have painted Obama as a foreigner and therefore an illegitimate leader.
A recent AP survey found that 56 percent of white Americans harbor anti-black sentiments, up from 49 percent during the 2008 presidential election. Further, the poll found that racial prejudice alone could cost President Obama five points in the election, while pro-black sentiments could add three points, for a net loss of two points.
"We would be disappointed because Obama has done his best," said Rev. Samuel Mosteller of an Obama defeat. Mosteller is assistant pastor of Atlanta's Good Shepherd Community Church and president of the SCLC Georgia chapter. "People have forgotten where we were before Obama's administration. He has made monumental decisions and changes that have benefited the American people."
"If he loses, it's because a great number of people don't like the fact he's African and American," Rev. Mosteller concluded.
Another possible reason for an Obama loss is voter disenfranchisement, say some observers. Civil rights organizations are concerned that Republican-controlled state governments around the country have enacted voter ID requirements that they argue place a higher burden on voters of color, the poor and the elderly.
A prominent Romney donor was hired by Pennsylvania's Republican governor to create ads for the state's draconian voter ID law, which a court halted for the 2012 election.
The Tea Party group True the Vote is accused of intimidating minority voters at the polls.
Florida Governor Rick Scott has reportedly purged eligible voters from the rolls, and Democrats have filed an emergency lawsuit to extend early voting, as some voters complained of waiting as long as nine hours to vote. Meanwhile, an RNC-linked firm is accused of voter registration fraud in battleground states such as Florida and Virginia, including the dumping of voter registration forms into the trash.
In addition, hacked electronic voting machines are causing concern as well. "In Georgia, the [Diebold] voting machines used to cast votes are susceptible to less than honorable intentions," said Rev. Mosteller. "And with the emotions surrounding President Obama, it is quite possible someone would try and cheat."
Black Americans cannot help but draw similarities between the voter suppression tactics used against blacks by white Democrats in the Jim Crow South, and the strategies employed by the Republican Party in 2012. If Obama loses, African Americans may conclude the election was stolen from them—a conspiracy.
"If they try to take away the ballot, all we have left is the bullet. So when the Tea Party says they're here to take their country back, we've got to say no! I don't want to go back," said Rev. Bullock.
"Given the history of race and disenfranchisement in the United States, it is perfectly understandable for civil rights groups to be suspicious and to try to seek to hold those pushing for these laws accountable to history," said
Andra Gillespie,political science professor at Emory University in Atlanta.
"If we were not witnessing all the unnecessary attacks on the right to vote, then people would be fine," said Edward DuBose, president of the Georgia State NAACP. "But what we're observing in the lead-up to the election are tactics to reduce or deny African-Americans access to the right to vote, which should be guaranteed in the Constitution." DuBose added that an Obama reelection loss should prompt a conversation regarding the attack on voting rights, and the strategies used to disenfranchise voters.
Given the questions surrounding voter ID and voter suppression, Sidmel Estes, a media strategist and adjunct professor of journalism at Clark Atlanta University, expects major backlash in the black community if Obama loses.
"So, if Romney wins, a lot of people will ask "who is this guy? There will also be a lot of suspicion that a man who is little known on the national scene could unseat a sitting president, unless there was deliberate voter backlash," said Estes. "That is what will anger people, the fact that they will believe it is a racist attack and that Obama wasn't given a chance."
Rev. Catherine Jackson, who hosts a social justice ministry called a Prophetic Service Agape Leadership Ministry, thinks an Obama defeat would be crushing, and could lead to fear of voter suppression. "I do have that fear, because of people's own state of hopelessness. Because the reality is, in some parts of our community, there might be people that feel like 'what difference does that make?'" she said. "Things going on in your own individual lives, sometimes that feels like a cancer and you may feel like there's no hope, and when people feel like there's no hope, people don't get up and people don't move."
Rev. Jackson also told theGrio that an Obama loss would encourage people to organize and build a better infrastructure in their families and communities, in the same way that organization among black people secured an Obama election in 2008. Others agree.
The representative black voices who spoke with theGrio reject the notion that an Obama loss would spark violence, despite the anger, desperation and hopelessness his defeat would create. They believe the battle is to be fought in the political arena, through activism and the ballot box rather than through physical confrontation.
"I don't think there would be violence because black people are used to disappointment in America," said Rev. Mosteller, who encourages his congregation to vote.
"At the end of the day, we do not want to have to fight any body with bullets. We have to fight in the ballot box," said Rev. Bullock. "We have to take our souls to the polls. We can't just do it on Facebook. We can't just do it on Twitter. We've got to go to our churches and our mosques, and our synagogues and tell people it's time to go to the ballot box and stand up for the American dream."
"I think black America would feel the pinch of going back to things the way they used to be under the Republicans…and the progress that President Obama has made will go to waste," said David Lowery, Jr., president of the Far South Suburban branch of the NAACP in Chicago. Lowery also noted that with high unemployment, black people have always been under the struggle.
"It should really be a motive that ignites us and inspires us. It should fire us up. It should really make us mad that we have sit around and let this society conduct business as usual, which is corrupt. It should invigorate black people. This loss should invigorate the Civil Rights Movement in such a way that this doesn't happen again."
Phillip Jackson believes that if Obama is unsuccessful on Election Day, black America will have to redouble their efforts.
"So Obama will not win, but that doesn't take away my power. And that's what we have to teach our children. So this is going to be a lesson for our children, for our teachers. If we will work to help Obama win, we will move heaven and earth for him to win, but if he doesn't win, that doesn't mean that we should just give up, become hopeless and roll over. We should get back to work and work even harder."
Meanwhile, if the president is reelected, Jackson—not unlike other African American voters—has high expectations of Obama.
"I want President Obama to be different in his second term than he was in his first term. I want him to be more responsive to the African American community in his second term than he was in his first term. But I know that we have to work incredibly hard, the African American community, to get him to a second term."
About Post Author