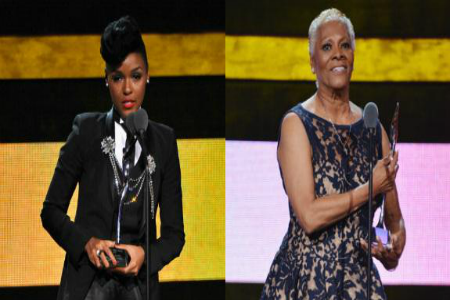 From Janelle Monáe's big win to Dionne Warwick's Living Legend award, we recall the show's highlights.
(The Root) — Since 2006, Black Girls Rock! Inc. has celebrated young women who are inspirations to their communities worldwide. The organization founded by DJ Beverly Bond mentors and seeks to empower black girls. On Sunday night, BET aired the seventh annual awards show, which had been taped live at the Paradise Theater in the Bronx, N.Y., on Oct. 13. It honored black women in entertainment and various other fields who've made an impact as positive role models and inspirational leaders.
For the second consecutive year, Tracee Ellis Ross and Regina King shared hosting duties, and together they made a cute, witty team. After a performance by a fierce band of female drummers, the show was on. The Root was in the building, witnessing it all — from Star Power award winner Kerry Washington's heartfelt words and Alicia Keys' blazing-hot performance of "Girl on Fire" to Ciara and Missy rocking the stage and '90s nostalgia from SWV. Here are five of the night's most memorable moments.
Janelle Monáe Wins Young, Black and Gifted Award
Independent artist Janelle Monáe has a unique style, to say the least. Even before releasing her breakthrough 2010 single "Tightrope," Monáe has sported a signature look — a neatly coiffed neo-pompadour, tailored black suit and white shirt, or an iteration of it — to virtually every awards show, music video and performance.
Growing up in Kansas City, Kansas, Monáe's most intimate role models — her mother, a janitor, and her father, a garbage man — wore uniforms. She revealed in her acceptance speech that they are sartorial inspiration.
"I stand here in my black and white, and I wear my uniform to honor them," Monáe said.
As she accepted the Young, Black and Gifted award, she was tearful, recalling her path to success. Even beyond her humble family roots, Monáe struggled to make it in the music industry, working as a maid and living in a boarding house where she sold $5 CDs of her music before she "made it."
Now she's a spokesperson for Covergirl. "I didn't have to change who I was to be a Covergirl," Monáe said. "Perfection is often the enemy of greatness."