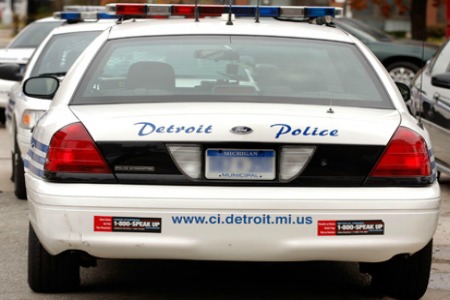 Detroit —Weeks after Detroit Police Chief Ralph Godbee resigned amid a sex scandal, the commander in charge of Detroit Police Department (DPD) Patrol Operations has been demoted back to lieutenant for allegedly assaulting a subordinate officer.
Interim Police Chief Chester Logan announced Tuesday he that he moved DPD Commander James Moore back to the rank of lieutenant, effective Monday.
Moore, was promoted to lead Patrol Operations in June, is under investigation for an alleged assault in a party store. The incident involved a subordinate that Moore was involved in a romantic relationship with, police officials said.
As the investigation into allegations of Moore's misconduct continues, Logan said Moore has lost his effectiveness as a Commander.
"Based on the seriousness of these allegations, his role as Commander was compromised in the police department and in the community," Logan said in a statement. " Standards for appointees are higher than that of other ranking officers. There are consequences for any allegation of inappropriate behavior."
Mayor Dave Bing promoted Logan to the position of interim chief last month after a Twitter post exposed an inappropriate relationship between former chief Godbee and a subordinate officer.
Moore and Godbee are not the only police affiliates under investigation. An internal investigation continues around claims that Inspector Don Johnson, head of DPD Homeland Security and Tactical Support operations, sent inappropriate, sexual text messages to a high-ranking female officer, according to a report in the Detroit News.
Bing in a statement said he stood by Logan's decision to demote Moore.
"The Chief's action is consistent with my desire to eliminate improper behavior in the police department and all City of Detroit departments," Bing said. "Employee misconduct will not be tolerated."

About Post Author