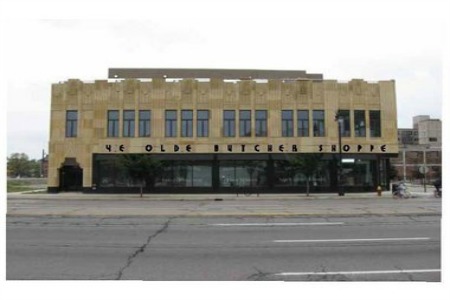 DETROIT, MI – Two and half years in the making, Ye Olde Butcher Shoppe, a gourmet grocery store created by brothers Michael and Peter Solaka, opened its doors to eager Midtown Detroit residents this past Saturday.
The Solaka brothers had originally intended to open the 8,100-square-foot store at 3100 Woodward Ave in May of 2010, but problems with the ownership of the building – the Solakas are leasing it – kept the grocery store in legal limbo.
Michael Solaka told MLive in August that he and his brother have already invested some $500,000 into the store, which will have a full meat counter and butcher, a full deli counter, a salad bar, a bakery and a large variety of beer and wine. The store will feature a wide selection of Michigan- and Detroit-sourced products.
Peter Solaka states, "We want to provide a place where you can come in and put together a great meal all in one place. Our pricing will be the same as comparable stores in the suburbs. Since so many people have to drive there for their groceries as it is, I think we will compete well in the Detroit market."
Store hours will be 8 a.m. to 7 p.m. Mondays through Thursdays, 8 a.m. to 8 p.m. on Fridays and Saturdays and 10 a.m. to 4 p.m. on Sundays.
The brothers signed a lease on the building a year before Whole Foods planned its 20,000-square-foot location at Mack and Woodward avenues. The Midtown Whole Foods is scheduled to open in mid-2013.
The name for the store is a throwback to a trio of stores owned by the Solaka family under the same banner in the 1970s and 1980s.
http://www.mlive.com/business/detroit/index.ssf/2012/10/ye_olde_butcher_shoppe_finally.html