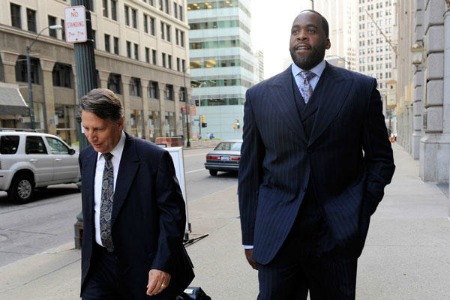 DETROIT, Mich. (WJBK) –
The federal trial of former Detroit Mayor Kwame Kilpatrick will be delayed until at least next week after a defense attorney suffers a medical emergency in court.
Federal Judge Nancy Edmunds has put the corruption trial on hold until at least Monday while attorney Gerald Evelyn recovers from an undisclosed health problem.
The attorney for Kilpatrick codefendant Bobby Ferguson was rushed to a hospital after asking for a break during testimony and remains hospitalized in stable condition, according to Judge Edmunds.
Kilpatrick, his father Bernard, contractor Bobby Ferguson and former Detroit water department head Victor Mercado are on trial for racketeering and other charges. The trial, which started Sept. 21, is expected to last several months.
http://www.myfoxdetroit.com/story/19954104/kilpatrick-corruption-trial-delayed-until-monday