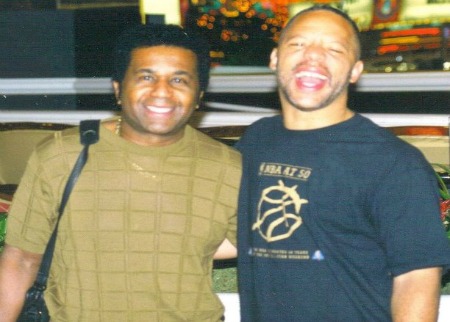 Oh happy days! Emanuel Steward and Leland Stein at MGM in Las Vegas
– Photo Credit: Hassan Ali photo

Emanuel Steward died recently at the age of 68 after an undisclosed illness. It's a stunning loss for Detroit and the world boxing community, and, a lost link to a great era when Marvin Hagler, Ray Leonard, Thomas Hearns, and Roberto Duran produced one of the greatest cuatro or quartets in fisticuffs long history.
"With the loss of Emanuel Steward, we have lost a true Detroit icon," Mayor Dave Bing said. "Emanuel Steward embodied our city's toughness, our competitive spirit and our determination to always answer the bell."
Sure Muhammad Ali laid claim to the "Greatest" boxer ever. Yes it was a self-proclaimed moniker. However, the "Greatest" boxing trainer ever may be Detroit's own Emanuel Steward, and it is not self-proclaimed, it is just acknowledged by almost all of the sweet science's aficionados.
I was living in Los Angeles and working for a paper there, so I was not in the city for the heyday of Kronk Boxing. But that mattered not because my Dad was a boxing historian and he made sure I was up on all Kronk's exploits.
As a neophyte L.A. reporter I was tasked with the boxing beat and that started a lifelong friendship with Emanuel. We first met in Las Vegas at the MGM Grand over 20 years ago when I was covering a Mike Tyson championship fight.
Of course I knew who Emanuel was and I walked over to him and told him I was from Detroit; he lit up like a Christmas tree. He said he was going to get something to eat and asked if I could join him. We sat and talked about his high school days at Eastern High and Detroit in general.
It was as if we had known each other forever. That was the type of person Emanuel was – inviting, humble, talented, kind, compassionate, uncorrupted and reflective. Here he was a certified star and he took me in like a lost puppy. I told him about my Detroit roots and my just getting started in the boxing game. He gave me advice and introduced me to boxing royalty as they walked by.
Circumstances, time and family brought me back to the Motor City, and, wouldn't you know it, my Rosedale Park neighbor just so happened to be Emanuel. On one of our meeting he invited me to his annual summer barbeque cookout at his home. I would go every year with one of my sons and it was evident Emanuel really enjoyed sharing his blessings.
The last time I saw Emanuel was just before he went to Chicago for treatment. We happened to meet in Rosedale's park walking our dogs as we had done many times before. I always teased him about traveling with him one day to Europe and chronicling a week with Emanuel. He would always say honestly: "Leland, let me know and we will work something out."
I did not act on his retort and it may be yet another unspoken lesson for me: "Do not wait until tomorrow what I can do today, because tomorrow my never come."
There is no tomorrow for Emanuel, but there is a lasting history of kindness, excellence and commitment that will stand the test of time.
Sure Emanuel founded the famed Kronk Gym and out of it he became a HBO boxing analyst and Hall of Fame trainer of champions like Hilmer Kenty, Thomas Hearns, Steven and Milton McCory, Evander Holyfield, Oscar De La Hoya, Lennox Lewis, Johnathon Banks, Leon Spinks, Wladimir Klitschko and a host of others. In fact, 41 of the fighters he mentored/trained won world championships.
However, the real essence of Emanuel was his sincere desire to help others in the way he knew how.
"Manny's energy, enthusiasm and bright smile were a constant presence," said Ken Hershman, president of HBO Sports. "Ten bells do not seem enough to mourn his passing. His contributions to the sport and to HBO will never be forgotten."
Concurred Wladimir Klitschko, reigning heavyweight champion: "Vitali and I acknowledge that it is not often that a person in any line of work gets a chance to work with a legend, well I was privileged enough to work with one for almost a decade. I will miss our time together. The long talks about boxing, the world, and life itself."
RIP Emanuel! I'll forever miss our dog walks in the park and your barbeque.
Leland Stein can be reached at lelstein3@aol.com or Twitter @LelandSteinIII