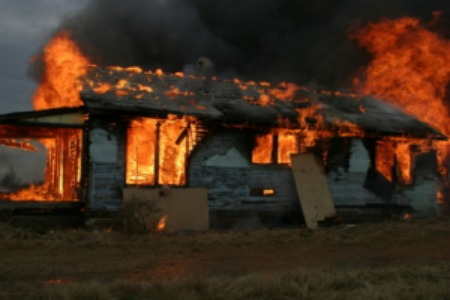 DETROIT (WWJ) – On the night before Halloween, Detroit firefighters are concerned about wind gusts of 45 miles per hour sent in by Superstorm Sandy.
Detroit Firefighters Union President Dan McNamara said the wind is not only a problem for knocking down wires but also for spreading house fires.
"For example, in the 7 Mile and Gratiot area we had a major wind fire there, we lost 85 homes a few years ago. Wind gusts, we have an old joke that if it's breezy in Chicago, then we're going to be out forever," McNamara said.
Weather effects from Sandy, which pummeled the eastern U.S. coast Monday night, are responsible for causing thousands of power outages in the metro Detroit area. A high wind advisory is in effect for the region until 1 p.m. Tuesday.
"When there's a little bit of a breeze, because of the old condition of the wires in the city of Detroit, they drop down, they can energize metal fences or they can certainly drop and start fires on structures. So what we do is when there's a call out, a fire department vehiclegoes out and sits on those wires until DTE comes and relieves us or de-energizes the wire," McNamara said.
In 1984, more than 800 fires were started in Detroit during the Halloween period. In 1994, over 300 fires were started on "Devils' Night," the night before Halloween.
"We do the best we can, we try to control it. With 45 mile per hour winds, we can expect the whole fire department to be out on wires, what we call sitting on wires, which compromises out ability to get to other rescues," McNamara said.
http://detroit.cbslocal.com/2012/10/30/detroit-firefighters-fear-sandys-wind-gusts-on-eve-of-halloween/