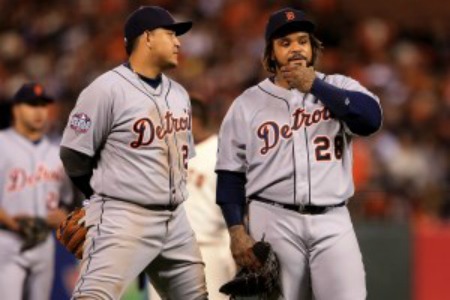 DETROIT (WWJ) – Detroit Tiger fans are in the doldrums Thursday morning after their team got pummeled 8-3 Wednesday night in San Francisco in the first game of the World Series.
WWJ's Sandra McNeill was with the crowd at Herman's Old Towne Bar and Grill in Plymouth where the rough night sent many Tiger fans home early.
Chris Miller of Plymouth was one of those headed to the exits.
"I'm leaving because of the score. It's been a pretty terrible game. Someone allows three home runs with three at bats is pretty bad," he said.
Miller is talking about the night for Giants' Pablo Sandoval, who is only the fourth slugger ever to hit three home runs in the Fall Classic. He now keeps company with the likes of Reggie Jackson, Babe Ruth and Albert Pujols.
The fact that Sandoval scored two of those runs on Tigers ace Justin Verlander adds insult to injury for several fans.
"This is a surprise. Verlander has been so hot. The last seven games, we won each and every one of those seven games. He's just the best pitcher of my life time and it's hard to see that he's human," said Frank Neijeo.
Mike Nittius couldn't help but agree.
"I'm pretty disappointed. It's rough to see Verlander come out and have a bad start. Our pitching really relies on our starters and when one of them comes out and just gets rocked like this, it doesn't helpour cause," he said.
Michael Ziolkowski is concerned at how confident the Giants' hitters seem against the Tigers' pitchers
"It's like the curse of '06 again, that we had this long break after sweeping the Yankees and we're just not as sharp as we would have been otherwise. But I don't know, maybe we'll shake this off and come out swinging," he said.
Other fans are trying to be optimistic, too, and leave the loss behind.
"You know, it's just game one. It will be alright. There's still plenty more games left to go," said Dean Kowalski.
"Yeah, I feel like we've got a great chance, you know, we're still ready to go, they'll shake it off and tie it up in game two," said Bobby McManman.
The Tigers play again Thursday night in San Francisco.
http://detroit.cbslocal.com/2012/10/25/tigers-fans-down-in-the-dumps-after-game-1-loss/