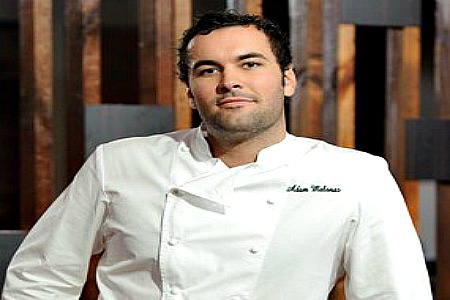 (Photo: UNREAL publicity shot) Austrialian Chef Adam Melonas worked with a 15-year-old boy to creat UNREAL, billed as candy "unjunked."
DETROIT (CBS Detroit) Ah, the perennial debate, what to hand out on Halloween that gives you credibility in the neighborhood, prevents unfortunate egging situations, and doesn't weigh on your conscience.
It almost seems "unreal" something like that could exist.
But wait, it's here! UNREAL, a new brand of unjunked candy, is out on shelves at just about every major grocery store just in time for Halloween.
A send-up of popular candy like Reeses cups, M&Ms, Milky Way and Snickers, the treats are magically loaded with protein and fiber, while still tasting decadent.
Created by Chef Adam Melonas, a Michelin-star rated chef, and Nicky Bronner, a 15-year-old determined to prove he could unjunk candy, UNREAL candy is made without corn syrup, hydrogenated oils or artificial flavors. And they contain 30 percent less sugar, 60 percent more protein and 250 percent more fiber on average per serving than the leading competing brands.
It all started with a candy bag confiscation. Nicky Bronner was upset, understandably, when his parents did away with his bag full of loot, and the precocious youngster decided to do something about it.
He joined forces with the chef to prove he could 'unjunk' candy and they got to work in a lab.
They removed corn syrup, hydrogenated oils, artificial flavors and synthetic colors, cut sugar, added protein and fiber and doubled the cacao. They sourced dairy from pasture raised cows in New Zealand and California without antibiotics or added hormones, used organic palm kernel oil from a sustainable and organic plantation in Brazil, and garnered traceable cacao beans from farms in Ghana and Ecuador. Colors come from red beets and purple cabbage.
All this goodness costs about $1 per item or $4.99 for a family-sized bag. Full-sized items have roughly 200 calories, 12 grams of fat, up to 5 grams of fiber, and 11-19 grams of sugar each.
UNREAL is available in 18,000 stores, including major retailers like CVS, Kroger, Holiday Market and Target stores in metro Detroit.
http://detroit.cbslocal.com/2012/10/24/new-candy-offers-unreal-level-of-halloween-health/