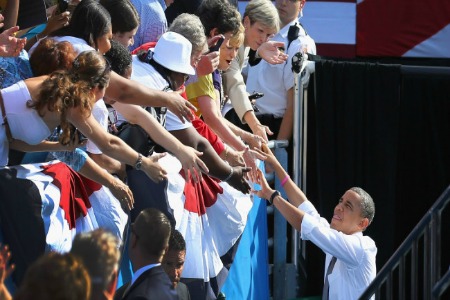 Massachusetts Governor Deval Patrick was a hit at the Democratic National Convention in September with a spirited speech that defended the party's principles. In a recent trip back to Charlotte to campaign for the president, he continued his attack on Mitt Romney as someone who, while a "very, very skilled campaigner," cut funding for education and "stymied innovation" when he held Patrick's job.
A future presidential prospect? The rapt volunteers at an Obama campaign office thought so, as they happily imagined Patrick on the 2016 ticket.
With his place in the pipeline that leads to national office, the only sitting black governor in the country is a standout. But he also stands alone. Four years after Barack Obama's historic election as the nation's first black president, there are fewer African-Americans in the U.S. Senate and governor's offices across the country than at the time of his 2009 inauguration, when, in addition to Patrick, David Paterson held the New York governorship and Roland Burris replaced Obama, representing Illinois in the Senate. And no African-American from either party is likely to win a U.S. Senate or governor's seat on Nov. 6, as the only two black nominees for those offices are long-shot Republican candidates in Maryland and Vermont.
Though the history before then had been bleak (only two blacks have ever been elected governor of a state), there was perhaps a hope, even an expectation that others would walk through the door President Obama opened, that a group that makes up over 12 percent of the population would be more visibly represented in the nation's highest political offices. Instead, the last four years have seen Burris, Alabama's Artur Davis and other politicians largely unable to follow Obama's example.
"As much as President Obama brought in a wave of acknowledgement, I don't think it radically shook the deck up so much in politics," said Charlotte Mayor Anthony Foxx, a 41-year-old who is considered a potential candidate for one of these offices in the future.
He said that talented state legislators and local elected officials "comprise a very deep and wide bench," but the president's 2008 success "doesn't necessarily mean that that changes the occasion for everyone downstream." Foxx said work has to be done by individual candidates to establish records of accomplishments.
"If the presidential election in 2008 meant anything, it meant that the package you come in matters a whole lot less than what you have to offer," he added.
So did Barack Obama's election make a difference? "Symbolically transformational, possibly," said LaTonya M. Williams, assistant professor at Johnson C. Smith University in Charlotte. "Substantively, I think the jury is still out."
Williams named California Attorney General Kamala Harris, Newark Mayor Cory Booker and Atlanta Mayor Kasim Reed, all Democrats, as minority politicians with a level of national visibility. And there are 43 blacks in the U.S. House, a number that could grow after the election.
She also noted that the GOP, though unsuccessful at attracting minority votes, has developed a "farm team" of prominent minority elected officials ready to move up, including U.S. Congressman Tim Scott of South Carolina, who is black, and Latino governors Susana Martinez of New Mexico and Brian Sandoval of Nevada, all elected with broad support of whites in their states.
Despite their comments, Williams, Foxx and others are not discouraged about the situation. They argued that many of the officials who Obama may have inspired are still very young and perhaps not ready to seek major offices yet.
"It's not getting harder to run in certain states simply because one is African-American," said Harvey Gantt, who was Charlotte's first black mayor and ran twice unsuccessfully for a U.S. Senate seat. "It may be getting easier to do it because people's attitude may be changing."
He added, noting Obama's success, "If we've been able to attain the highest office, all the other offices are in play, but it takes imagination."
And Gantt said changing demographics in states like North Carolina could help black candidates.
"You've got to imagine a situation as I thought I was imagining in North Carolina, where if 20 percent of the population is African-American and they all vote, then you only need a certain percentage of white votes, maybe 35, 36, 37 percent. … As the Hispanic population grows, as the Asian population grows, you may be seeing some different kinds of calculus," he said.
The man Gantt names as one of the next generation poised to ascend politically is Foxx.
"I ran for an office in 2009 that had not been occupied by a Democrat in over 20 years, where as an African-American, some may have questioned my electability and in fact some did," Foxx said with a laugh. "So I do think that the very fact that I'm the mayor of Charlotte [a city that is 35 percent African-American] is an indication that there has been progress."
He added, "I do think that whatever glass ceiling there was out there has been lifted and people who feel they are qualified and have something to offer are going to run, and they're going to have racial diversity and a lot of other types of diversity."
http://thegrio.com/2012/10/25/four-years-after-obamas-breakthrough-few-black-pols-on-the-ballot-for-major-offices/