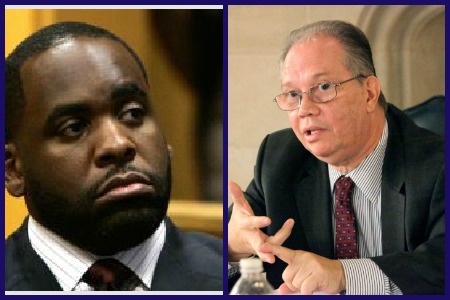 DETROIT — If U.S. Federal District Judge Nancy Edmunds' courtroom were a boxing ring, former Detroit water boss Victor Mercado won Tuesday's round it seems.
Mercado is a defendant in a public corruption case alongside ex-Detroit Mayor Kwame Kilpatrick, the mayor's father Bernard Kilpatrick and city contractor Bobby Ferguson, despite his efforts to separate himself from the trio.
Mercado is accused by federal prosecutors of being complicit in a scheme to steer city contracts and taxpayer dollars to co-defendant Bobby Ferguson.
Detroit Water and Sewerage contracts supervisor Daniel Edwards, who testified on behalf of prosecutors, gave Mercado high marks and called him a positive addition to the city's water management team.
"Mercado was a very good director," said Edwards on cross-examiniation. "And a very good boss to work with."
Mercado, selected by a third-party hiring firm after a nationwide search, came to Detroit in 2002 to operate the city's largest department. During his time in Detroit, Mercado earned between $200,000 and $250,000 per year.
Mercado took charge of an antiquated, vast, inefficient and outdated underground network of water and sewer pipes made, in many cases, of brick, stone and wood from as early as the 1800s.
Some of those same adjectives may also describe the department culture at the time of Mercado's arrival, based on Edward's testimony.
The Water and Sewerage Department, with a $1,2 billion budget, employed between 2,000 and 3,000 employees during the time Mercado worked in Detroit.
Mercado, in a position that in Detroit has often been bestowed upon attorneys and career politicians, is a water engineer.
He received approval to hire a third-party auditor to review the department.
Mercado made changes to cut excesses in the bloated department that had become lax with professionalism, Edwards testified. The number of employees has now dropped slightly below 2,000.
Mercado fired employees found to be drunk or high on the job, cut the number of jobs through attrition and began enforcing policies that had been ignored for years, according to Edwards.
Edwards said there were often personal relationships and friendships that were "too close" between engineering department employees — the front line for contract acquisitions — and contractors earning their livings from the city.
This is one of the prosecutions contentions that attorneys say led to Ferguson receiving $120 million in contracts during Kilpatricks' reign as mayor between 2002 and 2008.
In one example, Ferguson bid the second highest price for a contract among 10 bidders and won the contract.
Evidence presented Monday revealed Ferguson on at least two occasions petitioned the city for a "change-order" to adjust the price of his contracts, in some cases doubling and tripling the eventual price tag to the tune of millions of dollars.
Edwards said change orders are common due to the uncertainty of Detroit's unpredictable subterranean network of water mains and sewer pipe.
The bid granting process was refined, removed from the engineering department and a former method of selection by "jury" was revised so that decision makers each independently reviewed bidders without consulting one
Mercado, in a position that in Detroit has often been bestowed upon attorneys and career politicians, is a water engineer.
He received approval to hire a third-party auditor to review the department.
Detroit, after violating the Clean Water Act by dumping sewage into nearby rivers, signed a consent agreement in 1977 that turned oversight of the Water Department over to now-deceased federal Judge Feikens.
The agreement gave ultimate operational control over contracts to the "special administrator," who had traditionally been the mayor, as was the case during Kilaptrick's reign.
A 2006 ruling by Feikens stated that Mercado "promptly alerted" the court of problems as they arose and had set Detroit on a path to cleaning up Detroit's waterways.
Mercado accepted other municipal water management jobs since leaving Detroit but settled on something a little less bureaucratic.
Mercado now works at a hardware store in Florida.
Along with father Bernard Kilpatrick, friend and city contractor Bobby Ferguson and former Detroit water and sewer manager Victor Mercado, Kwame Kilpatrick faces 30 years in prison on charges of operating an illegal criminal enterprise involving extortion, accepting bribes and kickbacks, mail and wire fraud, contract rigging, obstructing justice and making malicious threats to extort money, the federal U.S. Attorney's complaint says.
Kilpatrick faces up to 30 years in prison if convicted.

http://www.mlive.com/news/detroit/index.ssf/2012/10/kilpatricks_detroit_water_boss.html